Alabama Chocolate Pecan Pie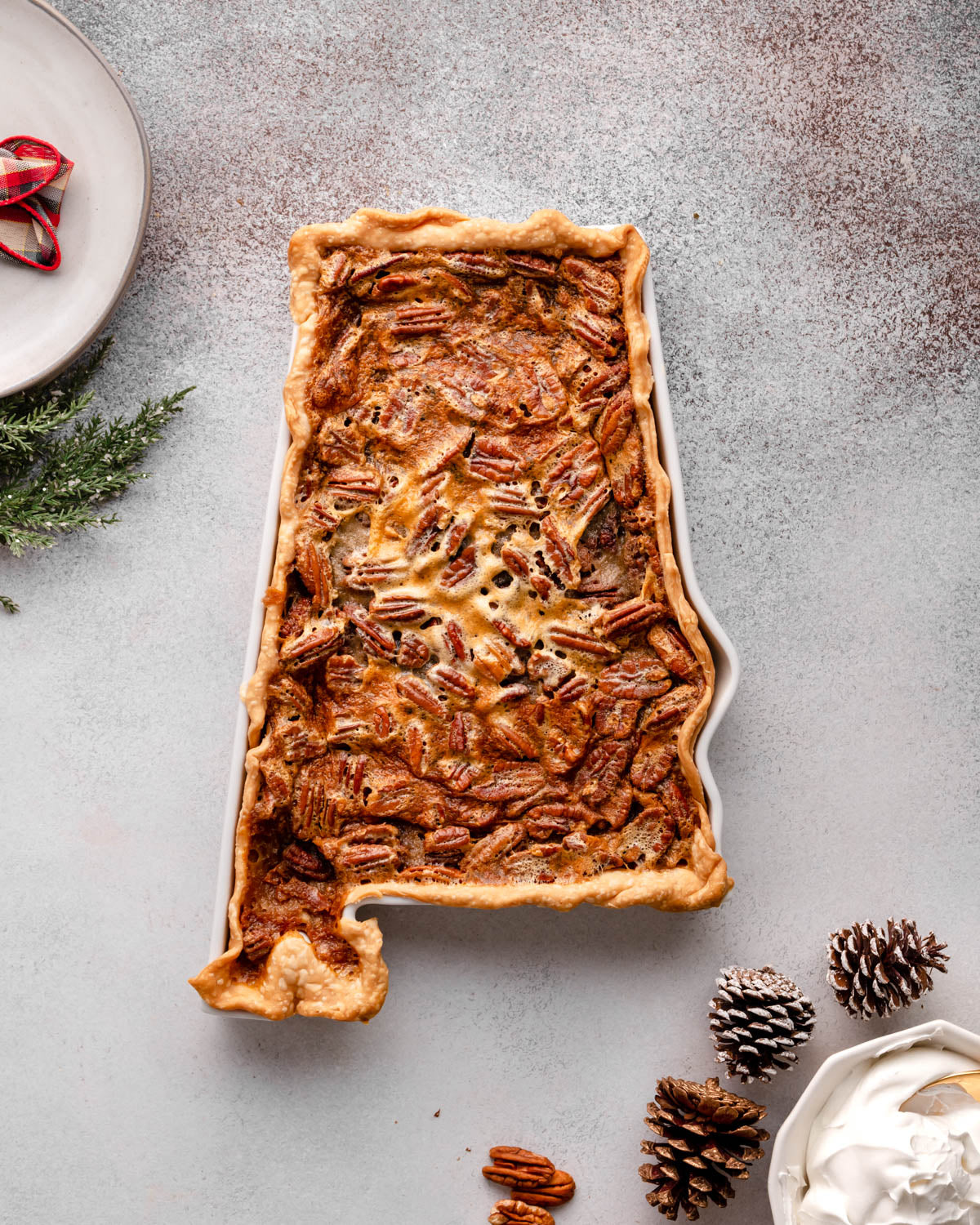 Is it pronounced PEE-kahn or pee-KAHN? We may never come to an agreement on that, but we can all agree that pecan pie is a holiday staple! This version has the classic flakey butter crust, irresistible gooey pecan filling, and a hint of dark chocolate to make this crowd-pleasing dessert slice of heaven. 
Pecans are a southern staple that began growing along the areas watered by the mighty Mississippi and stretching east into Alabama. With the bounty of nuts in the area, pecan pie became a coveted dessert of the south that was cloyingly sweet and surprisingly simple to make. And because pecans are harvested in the late fall, pecan pie quickly became a holiday feature in households everywhere. Today's pecan pie is pretty close to those original creations, though some like to play with the addition of bourbon, dark brown sugar, and even molasses to give their special touch. For us…it's all about the dark chocolate!
We love this pie because it stays true to the classic, no-fuss pecan pie of yesteryear. A flakey buttery crust, nutty pecan crisp top, and a gooey sweet filling brought to you by the other staple ingredient of the season—Karo syrup. The twist comes with the addition of dark chocolate mixed right into the filling. It offers a delicate bite and contrast to the sugary custard-like filling and offers a smooth rich texture that will make you wonder why you've ever made it any other way!
Chocolate Pecan Pie
Serves 8-10
Prep time: 20 min
Cook time: 60 min
Ingredients
1-2 pack refrigerated pie crust, or your favorite double crust recipe

1 cup light corn syrup

½ cup sugar

¼ cup salted butter, softened

1 teaspoon vanilla extract

3 large eggs

¾ cup dark chocolate chips

1 ½ cups pecan halves
Instructions
Preheat the oven to 325

℉

. Prepare your pie crust dough and press it into the Alabama state plate. If using pre-made crust, lay the dough over the plate to cover a majority of the sides and trim any overlap from the edges. Use the second crust to cover the remaining portion of the plate and trim. Press any seams together gently and refrigerate. 

In a large bowl combine the corn syrup, sugar, softened butter, vanilla, and eggs. Using a had mixer or wire whisk, beat the filling mixture until well blended. Fold in the chocolate chips and pecan halves and pour into the prepared crust. 

Place the unbaked pie on a baking sheet and bake for 50-60 minutes or until the filling is set and the top is a deep golden brown. Let chill for at least 1 hour before slicing to serve. 
---