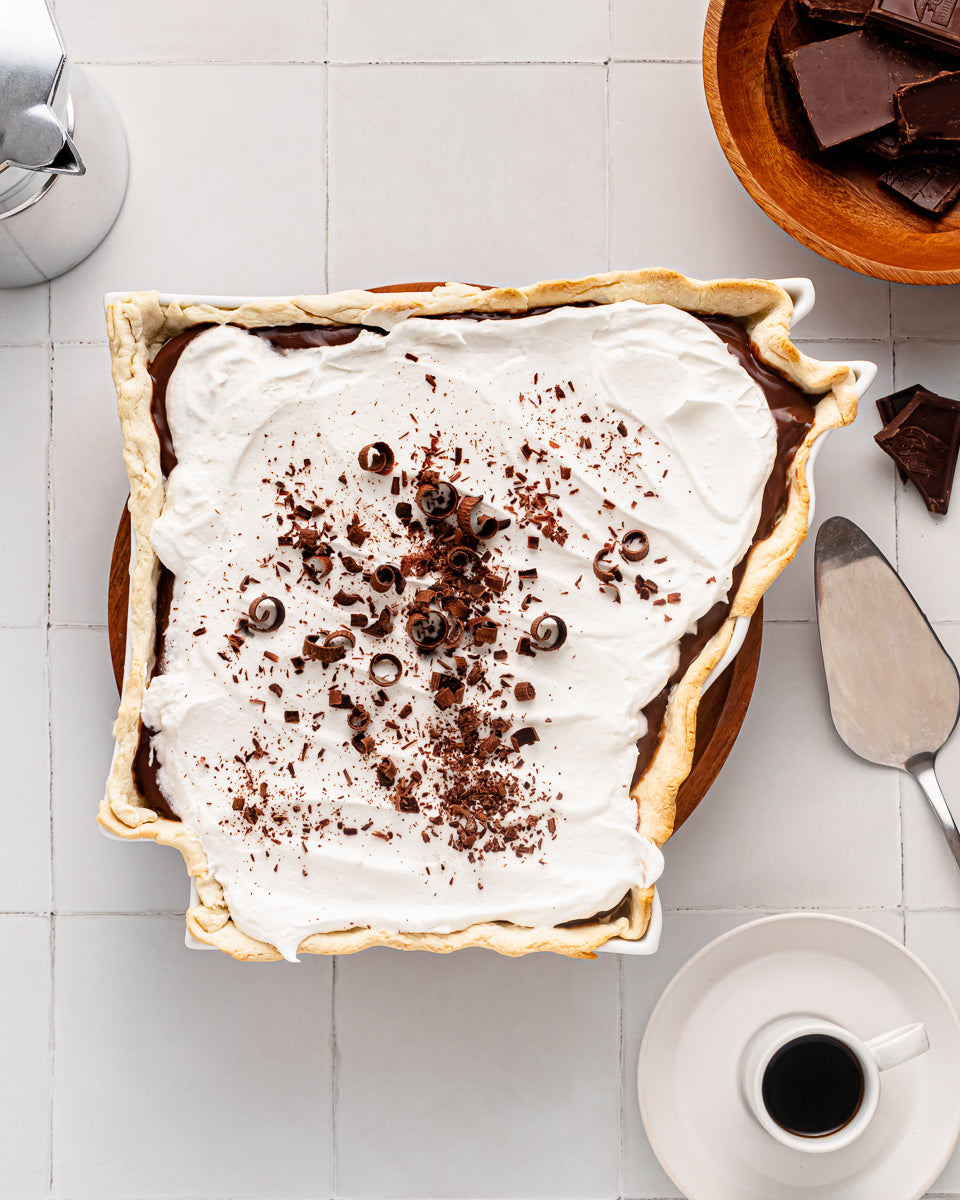 Cool off with this (mostly) no bake dessert that whips up in under 15 minutes and is sure to please a crowd! 
No possums were harmed in the making of this unique pudding pie. It's 100% possum free! But what you will find when you slice into this Arkansas classic are layers of buttery pie crust, sweetened cream cheese, rich chocolate pudding, and a whipped cream topper for an ultra-decadent dessert that will not disappoint.
As you may know, a traditional possum pie has a pecan shortbread crust as its base. Please add toasted pecans to your crust if you love pecans and have no nut allergies! But we decided to go with a nut-free crust that consists of a simple and buttery pie dough that is easy to put together and makes serving a breeze. A few other shortcuts such as using a pre-made whipped topping and boxed chocolate pudding make this a summertime no-brainer that's perfect for a lazy sunday dinner or a passing dish at your next barbecue!

Recipe Arkansas Possum Pie
Ingredients
1 2-pack refrigerated pie dough

6 oz cream cheese, softened

¾ cup powdered sugar

½ cup instant chocolate pudding mix

1 ½ cups cold milk

½ teaspoon vanilla extract

1 cup Cool Whip, or homemade whipped cream

3 tablespoons chocolate shavings, to top
Instructions
Heat oven to 350F and lightly coat your Arkansas state plate in cooking spray. Press the two pre-made pie crusts into the pan, cutting any excess dough off and pressing it into the edges where needed. You'll use about 1 ½ of the package to cover the entire dish. Bake for 10 minutes or until the center of the pan is no longer raw. Set aside to cool.

In a large bowl using a hand mixer or stand mixer, beat the cream cheese and powdered sugar until smooth. Next, in a separate bowl combine the pudding mix, vanilla, and milk and whisk until soft set. 

Layer the cream cheese mixture on the bottom of the baked pie crust, followed by the chocolate pudding mix. Top with whipped topping or whipped cream and refrigerate for at least 1 hour to set. Top with chocolate shavings to serve.
---