California Green Bean Casserole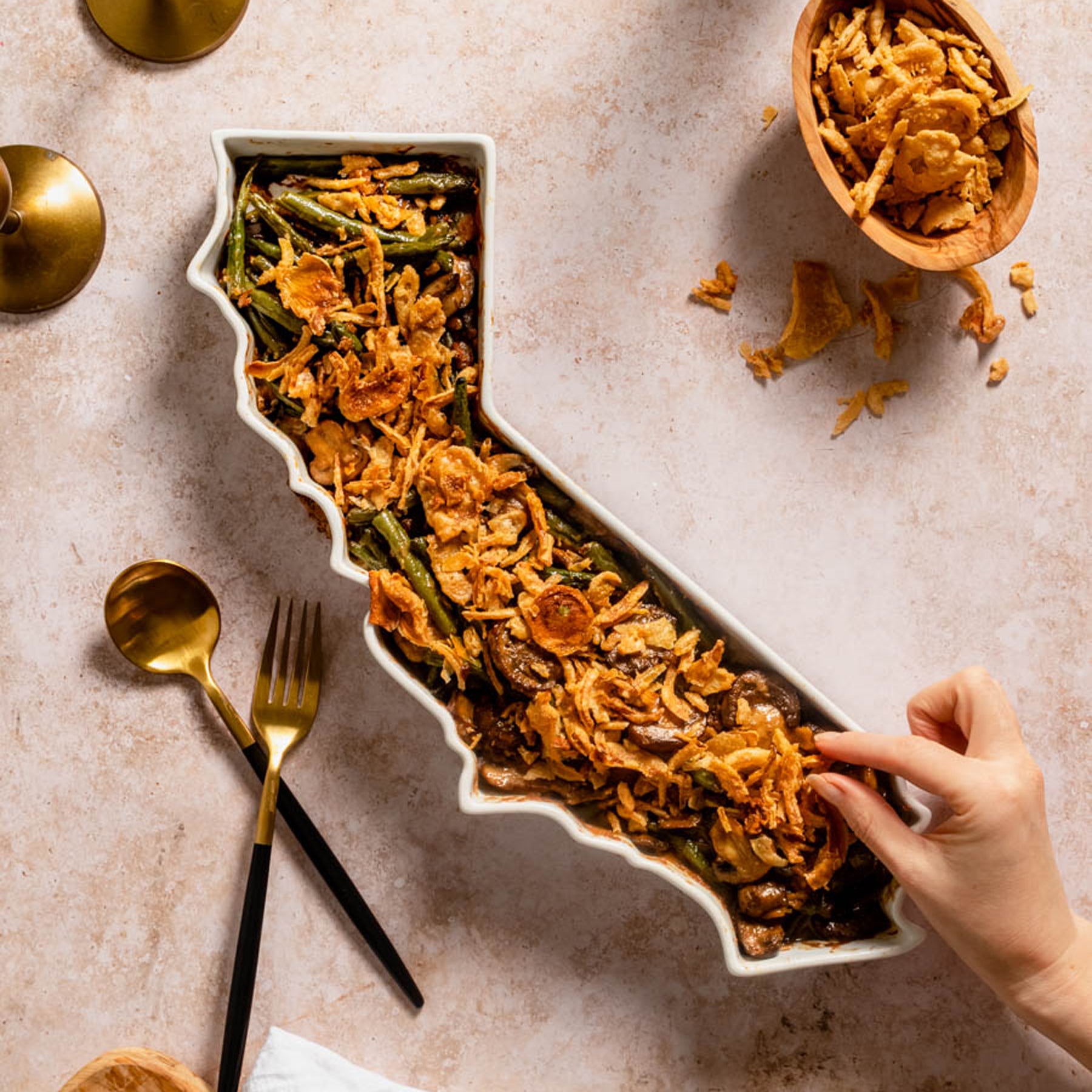 It wouldn't be a holiday without the crispy fried onion-topped green bean casserole! Here's how to ditch the condensed soup and make this classic from scratch.

Whether you love it or hate it, green been casserole is an American holiday staple. And while the concoction of cooked green beans, mushrooms, and condensed soup always seems to get eaten (we all have that family member who loves it) you may be looking to revamp your holiday side without disappointing your dinner guests. Why not swap that canned soup for a homemade bechamel sauce and the fresh flavors of sautéed mushrooms and thyme! It's easier than it sounds and is seriously good. 
This recipe starts with a quick blanch of fresh green beans. Bring a large pot of salted water to a boil and give your beans a short dip to get them *halfway* tender. Doing this reduces the bake time and gives your casserole the perfect consistency. Once you've prepped your beans, sauté the mushrooms, garlic, and thyme, then set aside to start on your sauce. 
The key to a good bechamel is browning the flour and butter before adding the milk. Once that's ready, cook the sauce until it's just thick enough to coat the back of a wooden spoon. From there, toss everything together and bake. Oh, and don't forget those crispy fried onions to top!
Recipe for California Green Bean Casserole
*This recipe was scaled down to fit the California baking dish or a 1 qt baking dish. Double for a 2 qt dish. 
Ingredients
1 lb Fresh Green Beans, ends removed

1 tbsp Olive Oil

8 oz Cremini Mushrooms

2 tbsp Butter

2 large sprigs Thyme

1 tbsp Flour

1 1/4 cup Whole Milk

2 cloves Garlic, minced 

½ cup Parmesan Cheese

Salt and pepper, to taste

½  cup French's Fried Onions, to top
Instructions
Preheat oven to 375° and bring a large pot of salted water to boil. Once boiling, add the green beans and cook just until bright green and about halfway to tenderness, about 3 minutes. Drain and let cool.

Heat 1 tbsp olive oil in a large skillet over medium-high. Sauté the garlic and mushrooms until the garlic is fragrant and the mushrooms begin to brown. Add the sprigs of thyme and continue to cook until the mushrooms are deep brown. Remove to a plate. 

Melt 2 Tbsp. butter in a large saucepan over medium-low. Whisk in flour and cook, whisking occasionally, until roux is golden brown. Whisk in milk and increase heat and bring to a simmer. Whisk often and continue to cook until the mixture thickens. Remove from heat and stir in the Parmesan cheese; season with salt and pepper to taste.

Arrange green beans and mushroom in a baking dish and cover with sauce. Cover tightly with foil and bake until bubbling, about 25–30 minutes. Uncover and continue to bake until casserole is lightly browned on top and around the edges, 15–20 minutes longer. Top with fried onions and continue to bake just until onions begin to brown. 
---