California Spiderweb Brownies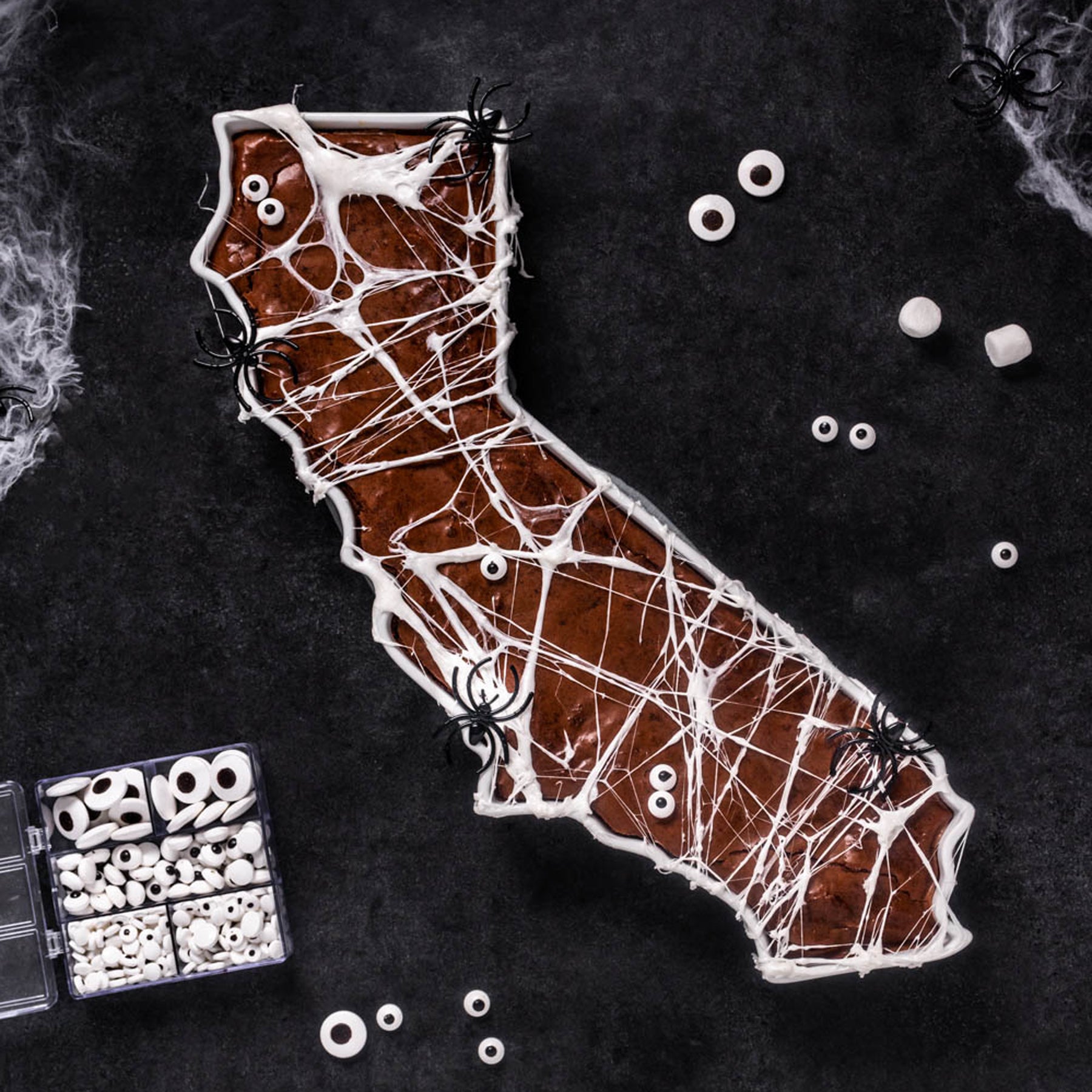 Spooky season is upon us and whether you're a fan of wild and wicked treats or just a hint of Halloween, these easy marshmallow-webbed brownies are always a crowd pleaser!
Not everyone wants a gruesome treat to celebrate the Halloween season, and let's face it, not everyone is crafty enough to create them. And that's okay! A classic fudge brownie with a simple marshmallow webbing is perfect for satisfying everyone's sweet tooth while being spooky enough to feel festive. 
For this recipe, we went with a classic fudge brownie recipe with crisp edges, a shiny crackle top, and a soft fudgy center. If you prefer a cakier brownie, that works too! Just swap in your favorite recipe and jump in where we start melting marshmallow. Once you get to that point, we have some tips for making your marshmallow web without making a total mess of your kitchen. 
Keep a wet cloth or paper towel handy to wipe your fingers. This is helpful if you have little helpers who like to grab everything in sight!

Be cautious when working with the hot marshmallow. This is essentially melted sugar and can burn you so make sure you let the marshmallow cool down before you (or your kiddos) begin the webbing. 

When making the webbing, think of your fingers as an accordion. Use your thumbs and fingers to grab a small amount of marshmallow, then open and close them while pulling your hands apart. This will create a webbing that you can easily lay over your baking dish! Once you get the feel for it, you'll be a pro. 
California Spiderweb Brownies
Ingredients
1 cup All-Purpose Flour

3/4 cup Unsweetened Cocoa Powder

1 1/2 cups Sugar

1/4 cup Brown Sugar

1/2 teaspoon Salt

1/4 teaspoon Baking Powder

3 Large Eggs

8 tablespoons Butter, melted and cooled

1/4 cup Avocado Oil, or vegetable oil
For the Topping:
1 cup Mini Marshmallows

Candy Eyes

Plastic Spiders (optional)
Instructions
Preheat oven to 350F. There's no need to grease a ceramic baking dish, but if using a metal or glass pan line with parchment or lightly coat with non-stick cooking spray. 

In a large bowl, add all the dry ingredients and whisk to combine. Add the eggs, butter, and oil and stir until a thick batter forms. 

Pour the batter into the prepared baking dish and bake for 25-30 minutes or until a toothpick inserted comes out clean. Let cool. 

Marshmallow Web: In a small bowl microwave the mini marshmallows for 20 seconds and let cool just enough that they are comfortable to touch. Using both hands (this can get messy!) dip your fingers into the bowl and grab some of the marshmallow. Bring the fingertips of both hands together, then open them and you pull the marshmallow apart to create a webbing. Lay over the top of the brownies and repeat until covered. 
Top with fake spiders and candy eyes for an extra spooky effect! 
*Make sure to keep the plastic spiders away from little ones who may try to eat them. *
---