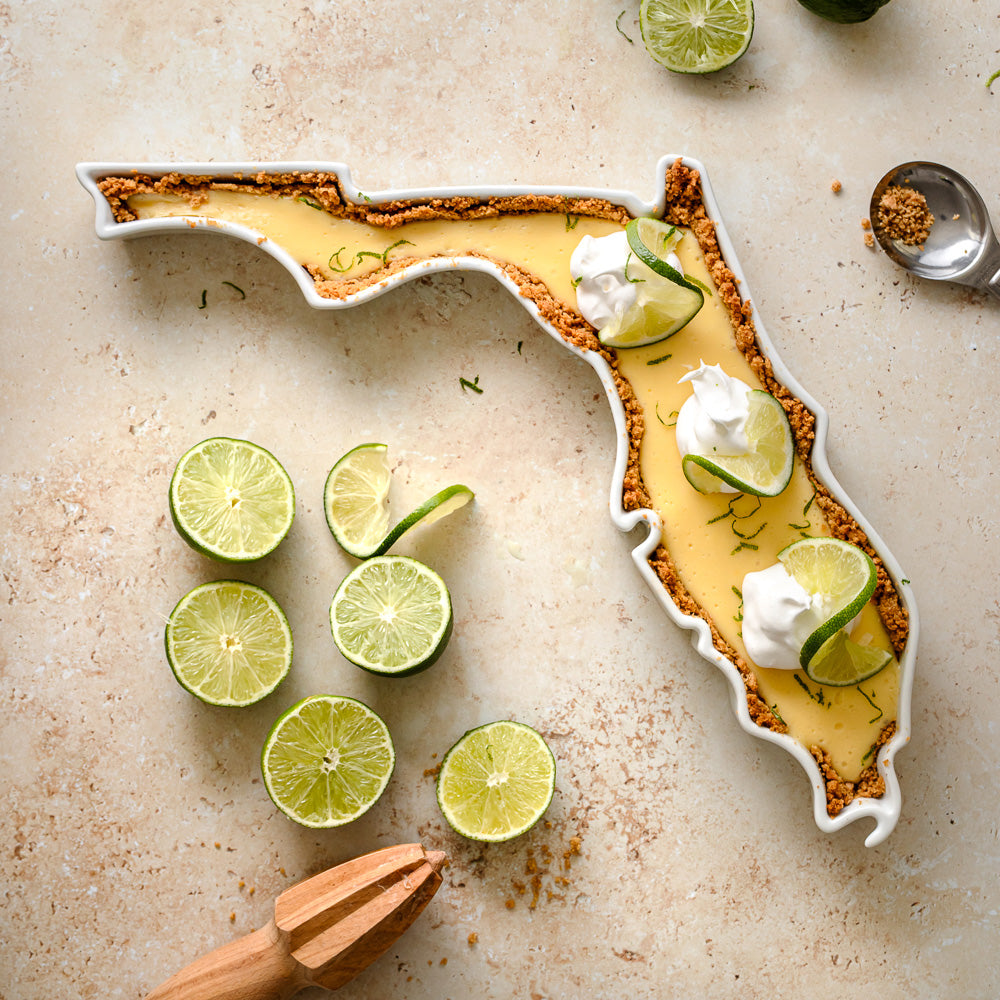 During the long, cold, trudge of winter, bring the flavor of the Keys home with this cheater's version of the classic Key Lime Pie.

A key lime pie, as the name states, is a luscious and decadent citrus tart with the main star being the illusive Key lime. But getting your hands on Key limes can be tricky since they are no longer commonly grown in the United States. 
So how do you quell your Key lime cravings without the coveted citrus fruit? Bottled key lime juice!
If you can score authentic Key limes, please run to your kitchen, and make this pie immediately. If you're not so lucky, don't grab for those typical supermarket-variety limes (aka Persian lime) just yet. While they are still tart and lime-y, the Persian lime is milder and will leave your pie missing that extra depth of flavor. 
We love utilizing bottled Key lime juice (available at most grocery stores) for this classic fuss-free Key Lime Pie and you will too!

Recipe for Florida Key Lime Pie
Ingredients
For the Crust
1 ½ cups Graham Cracker Crumbs ( or about 20 squares)
1/3 cup Butter, melted
5 tbsp Granulated Sugar
For the Filling
2 Egg Yolks

7 oz Sweetened Condensed Milk

½ cup Key Lime Juice, store bought or freshly squeezed

Zest from 1/2 lime (your local variety is fine!)
Toppings
Whipped Cream
Fresh Lime Slices
Instructions
Heat oven to 350F. Add the graham crackers and sugar to a food processor and pulse until crumbs. Pour in the melted butter and pulse to combine. Alternately, if using pre-made Graham cracker crumbs, combine sugar, crumbs, butter, and mix until combined. Press crust mixture into the Florida baking dish covering all the way up the edges. Bake for 7-10 minutes or until golden and let cool. *You may have extra crust depending on which state plate you are baking with!

For the filling: Whip the egg yolks and limes zest until the yolks are pale and smooth. Add the sweetened condensed milk and lime juice and continue to beat until the mixture is thick. Pour into the cooled crust and bake for about 10 minutes or until the filling is set. 

Let cool completely before topping with swirls of whipped cream and sliced lime. 
---