Idaho Loaded Mashed Potatoes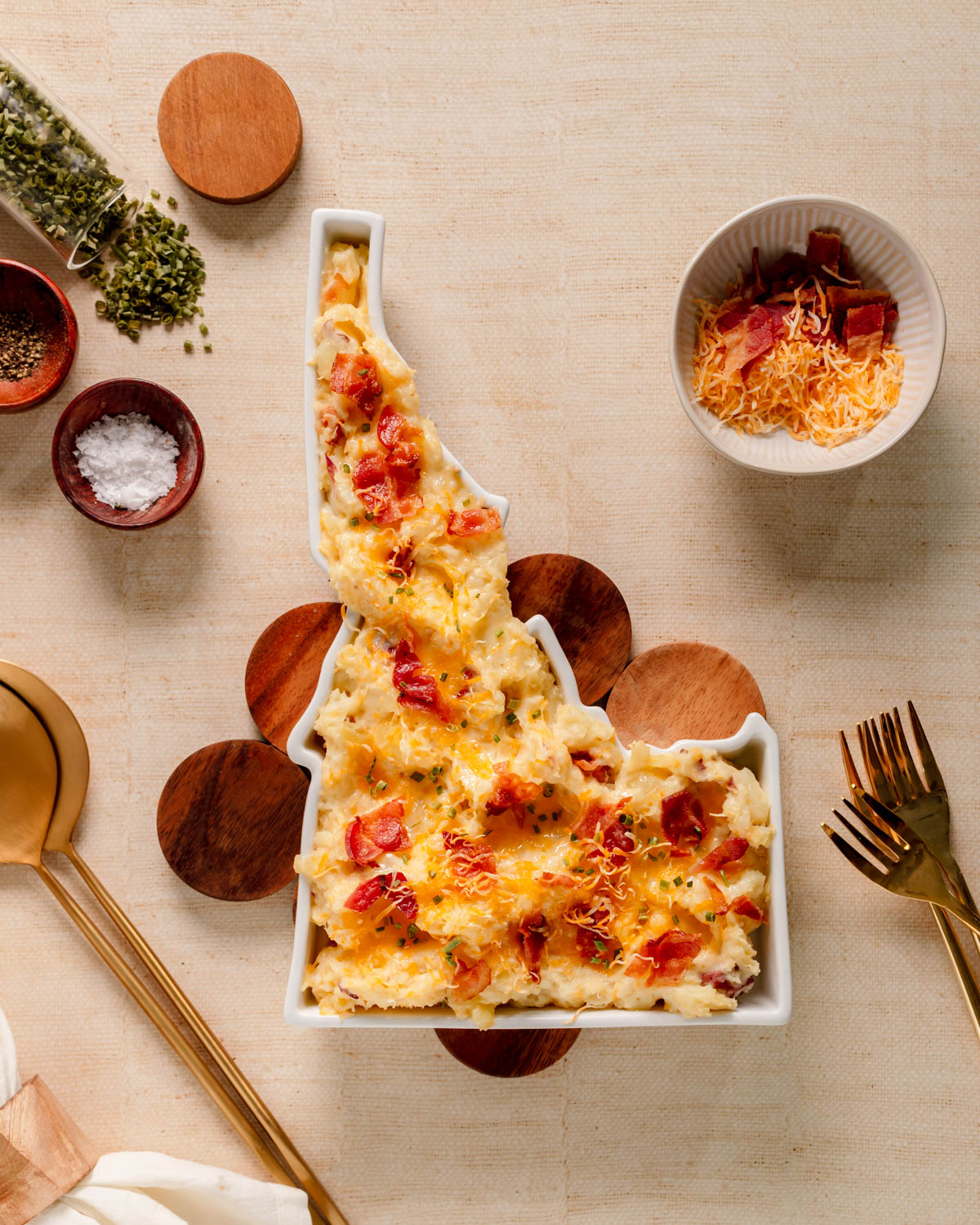 Nothing compliments a holiday meal quite like a pan of cheesy loaded mashed potatoes! These simple smashed spuds are filled with flavor and easy to make ahead, bake when you're ready to eat. How's that for a simple holiday side?
When it comes to keeping holiday dinners simple, it's a good idea to stick to what you know. One exception—this recipe. We're making a case for these loaded taters because they are just one extra step and two very regular ingredients away from your classic mash. It's worth the extra work and, in the long run, these baked potatoes are easy to make ahead and keep warm without taking up precious stovetop space.
For the best mashed potatoes, whether they be loaded and baked or traditional, we recommend cooking the peeled potatoes until they are very tender without falling apart. That means a fork should slide through the potato with ease. When mashing, be sure to let all the steam escape before you add butter or cream to prevent an overly wet or heavy mash. Then once you have the perfect fluffy mashed potatoes, the fun begins. Add the creamy buttery ingredients and top with as much cheese and bacon as your heart desires. Do not feel restricted by the ingredient list as it's just a suggestion! Load your creation into your favorite baking dish and bake!
Loaded Mashed Potatoes

Serves 4
Cook time:  min
Ingredients
1.5 lbs. small red potatoes*

4 slices crispy fried bacon, chopped

1/3 cup sour cream

2 tablespoons salted butter

2 tablespoons whole milk

1 clove garlic, minced

1 ½ cups shredded cheddar cheese, divided

Sea salt and cracked black pepper, to taste

1 tablespoon dried chives, to garnish
Instructions
Preheat the oven to 350

℉

.

Scrub and peel the potatoes, slice in half, and add to a large pot with enough water to completely cover the potatoes with 2 inches of water. Over medium high heat, bring the potatoes to a boil and cook until fork tender, 15 minutes. Drain and return to the pot.

Mash the potatoes in the pot to release most of the steam, then add the butter, milk, minced garlic, and season with salt and pepper. Continue to mash until the butter is melted and the potatoes are smooth. Fold in 1 cup of the cheese and the sour cream and stir to combine. 

Mound the potatoes in the Idaho baking dish and place the dish on a clean dry baking sheet. This makes it easier to remove from the oven. Sprinkle the top with the remaining cheese and chopped bacon and bake for 10-15 minutes or until the cheese is melted. Garnish with chives to serve.
* We used about 1.5 lbs. of potatoes to fill the Idaho State dish with just the right amount for baking. Feel free to double this recipe and bake between two dishes if you're feeding a hungry crowd!
---