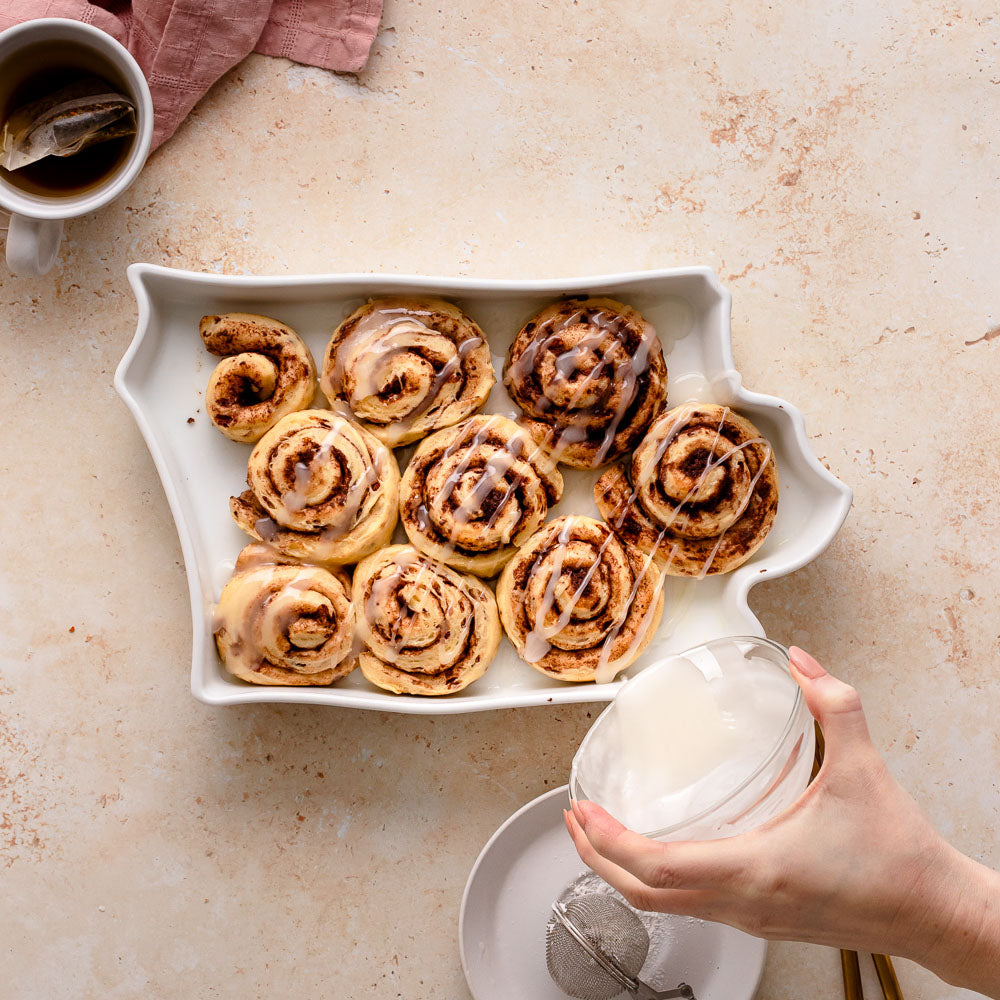 Nothing says weekend mode like a batch of fluffy yeast-risen cinnamon rolls with a gooey brown sugar center! This small batch recipe is sure to be a brunch staple.

Sunday mornings are for lazy cups of coffee and, for us, a batch of piping hot homemade cinnamon rolls with simple vanilla icing. It's a little more involved than using pre-made cinnamon rolls but trust us when we say it's worth it! These rolls start with a simple yeast risen dough and are scaled down to a hearty six servings, we chose to do 9 smaller rolls, but are easily doubled to feed a crowd, too. 
If you've never worked with yeast dough, there are just a few things to keep in mind for the best rise and tender rolls! 
Make sure your water is warm but not hot. Yeast needs warm water and sugar to come alive and create the reaction that gives dough both its lift and its signature flavor. Hot water will kill the living yeast while cold water will slow the process. 

Rising your rolls in the right conditions is just as important as your water temperature. Make sure the unbaked dough is kept in a warm, draft-free area of your kitchen for both rises. And idea temperature is around 75

℉

to 78

℉

. 

Kneading the dough is an important part of this recipe because it's related to the texture of the rolls…aka fluffiness! Knead the dough until it's elastic, then let it rise. Over kneading can cause a tougher pastry while not enough kneading will keep your dough from rising at all. 
Fancy waking up to freshly baked cinnamon rolls? No problem! You can prep this recipe the evening before and bake them when you're ready to eat! To make these rolls in advance, simply follow the directions all the way to the second rise. Once you've sliced and risen your cinnamon roll dough and arranged it in your baking dish, cover them tightly and refrigerate until morning. Then, pop them out and bake according to the directions!
Recipe for Iowa Cinnamon Rolls
For the Rolls
¼ cup Warm Water

2 tablespoons Granulated Sugar

1 tsp active dry yeast

2 tbsp Butter, melted and cooled

1/2 cup 2% Milk

½ tsp Vanilla Extract

2 cups AP Flour

1 egg, slightly beaten 

2 tsp Oil, for the bowl
For the Filling
4 tbsp Butter, melted and cooled

¼ cup Brown Sugar

½ teaspoon Cinnamon
For the Icing
1-2 tbsp 2% Milk

½ cup Confectioner's Sugar

1/8

th

tsp Clear Vanilla Extract
Instructions
In a small bowl combine the yeast, warm water, and 2 tablespoons sugar and set aside. Meanwhile, in a large bowl whisk the milk, melted butter, eggs, and vanilla until combined. 

Add half of the flour and mix well, then add the yeast mixture and stir to combine. Pour in the rest of the flour and continue to mix with a spatula until the flour is mostly absorbed. Turn the dough out onto a lightly floured surface and knead the dough until elastic and stretchy; about 1-2 minutes. 

Coat the bowl with oil and form the dough into a ball. Place the dough in the bowl and cover with a towel to rise in a warm area for 1 hour. 

Once the dough has doubled in size, turn it out on a lightly floured surface and roll into a large rectangle. 

In a small bowl mix the cinnamon and brown sugar. Brush the melted butter onto the dough and top with the cinnamon sugar mixture. Roll into a log and slice into six rolls. Place in your state baking dish, cover, and let rise for an additional 30 minutes. Preheat oven to 350F.

Once the rolls are nice and puffy, bake the for 25 minutes or until golden. 

Mix the icing ingredients until smooth and spread over the warm rolls to serve. 
---