Kansas Cheesy Corn Casserole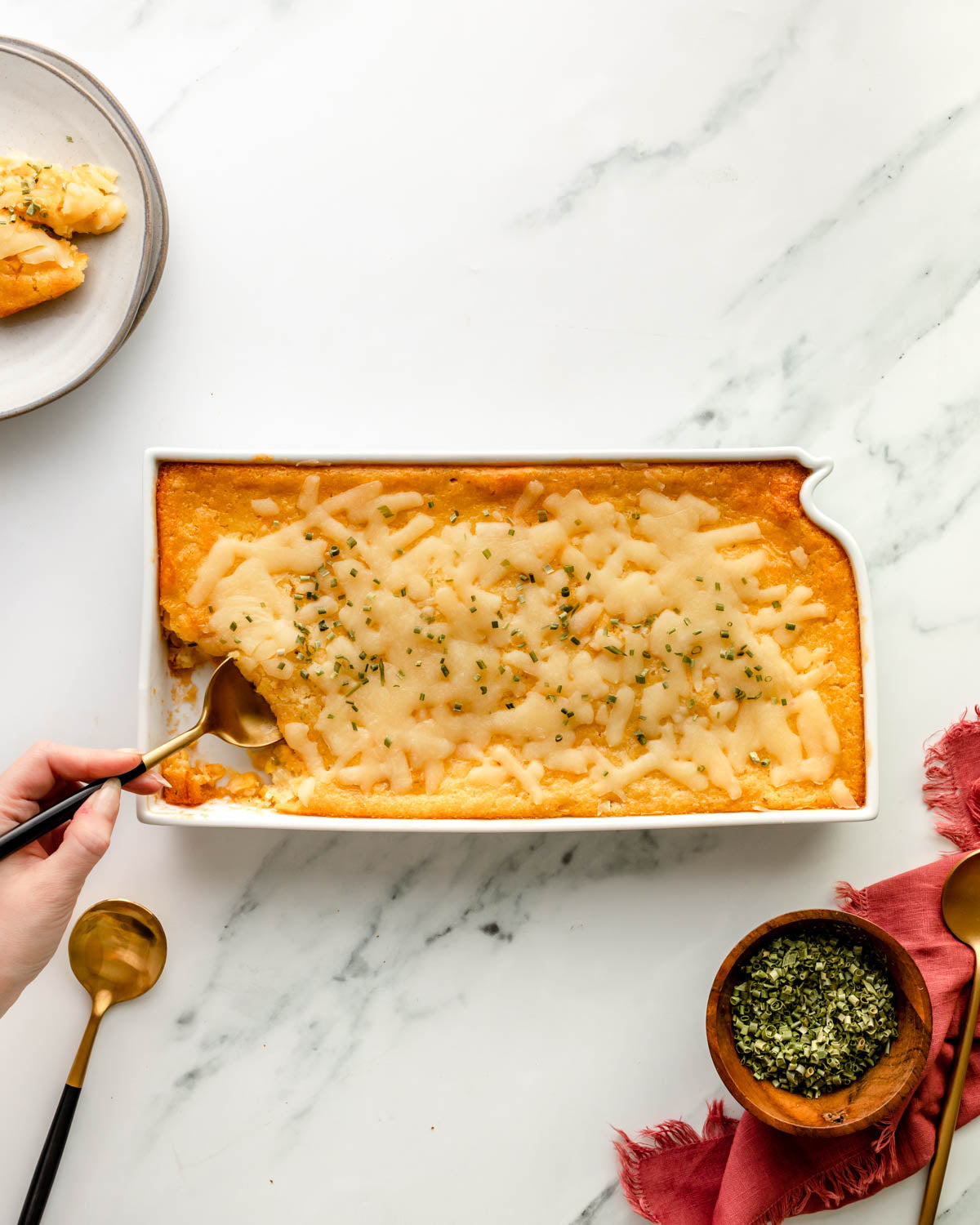 Kansas is known for a few things, but the one dish that we just can't resist this holiday season is the crispy golden goodness that is Cheesy Corn Casserole.
Whether you call it scalloped corn, corn casserole, or baked cream corn, it's a staple side that has been passed down through generations as the ultimate holiday comfort carb. In our family, it began with grandma's scalloped corn, and it was made from the recipe on a box of Jiffy mix that pre-dated internet recipes sharing. It was never quite exact, and measurements were just a suggestion, but every variation that grandma, then mom, would make was the best. Some years it's a little more like cornbread and others it was slightly soft and underset in the center, but we loved every single one--and that's what you'll find online these days. Just a thousand recipes with slight variations to re-make your childhood gooey, cheesy, cakey, or crispy-edged corn casserole. 
This corn casserole is more likely to remind you of the Jiffy OG recipe, but with a little cheese and some flair thrown in. Soft, cakey, moist and just a hint of sweet are what make this a new variation to love and we think your family (even grandma) will love it too!
Kansas Cheesy Corn Casserole
Serves 4-6
Cook time: 40 min
Ingredients
1 14.7 oz can cream style corn

1 14.75 oz can yellow corn, lightly drained

1 box Jiffy cornbread mix

2 large eggs, beaten

¼ cup sour cream

1 cup white cheddar cheese, divided

½ cup vegetable oil 
Instructions
Preheat the oven to 350

℉

and coat your state plate lightly in oil. 

In a medium bowl mix the corn, cream corn, eggs, oil, sour cream, and cornbread mix. Stir to combine. Add half of the shredded cheese and fold, then pour into the prepared dish. 

Top with the remaining cheese and bake for 50-60 minutes or until golden. If the crust begins to over brown before the  center is set, tent with foil. Slice and serve warm.
---