Kentucky Creamy Bourbon Chicken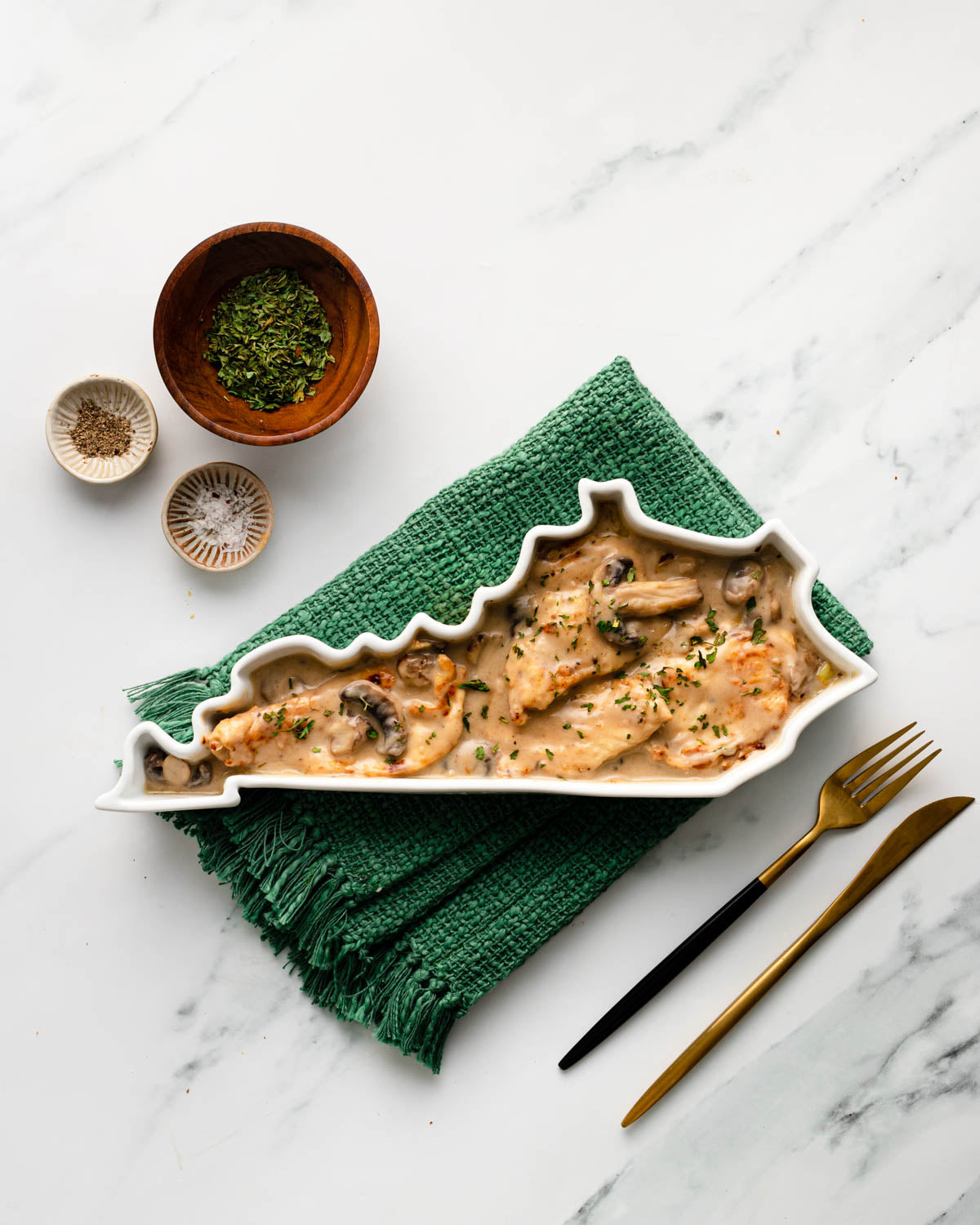 Bourbon is good, creamy bourbon chicken and mushrooms is better! 
The history of Kentucky bourbon is as rich as this recipe! From home distillers to the families that brought bourbon to the mainstream masses, bourbon just doesn't seem like bourbon if it's not from Kentucky. We love it for the barrel-aged, corn-based distilling but you don't need to be a whiskey snob to enjoy a tipple. Nearly 95% of bourbon distributed worldwide is aged and distilled in the bluegrass state so grab a glass and get cookin'! 
For this recipe, we've combined the savory umami flavors of sautéed mushrooms and garlic reduced in a splash of bourbon. With a little cream and a lot of heat, this sauce is reduced to  silky smooth perfection and paired with quick-coated thinly sliced chicken breast. The combo of a lightly breaded, crisp piece of chicken and cream sauce is just what our bourbon-loving ancestors would be proud of!
Recipe for Kentucky Creamy Bourbon Chicken
Serves 4
Prep time: 15 min
Cook time: 60 min
Ingredients
1/4 cup + 2 teaspoons all-purpose flour

1/2 teaspoon sea salt, plus more to finish

1/4 teaspoon ground black pepper, plus more to finish

4 thinly sliced chicken breast

1 tablespoon olive oil

2 tablespoons chopped green onion

2 tablespoons butter

1 cup sliced mushrooms

2 cloves garlic, minced

2 oz Bourbon

1 cup heavy cream
Instructions
Heat oven to 350F. In a large bowl combine the ¼ cup flour, sea salt, and ground pepper and whisk to combine. Add the chicken and turn to coat all sides in the flour mixture. 

In a large skillet heat the olive oil over medium-high heat until shimmering. Add the chopped green onion and sauté for 1 minute. Add the coated chicken pieces and cook on each side for 4 to 5 minutes or until nicely browned and the internal temperature reaches at least 165 degrees F. Remove from the pan to your Kentucky dish and cover to keep warm while you make the sauce. 

In the same skillet over medium heat melt the butter. Add the sliced mushrooms and minced garlic and sauté until the mushrooms release their moisture, about 3 to 4 minutes. Turn the heat to medium high and add the bourbon, stirring regularly until the alcohol burns off; 2 to 3 minutes. Pour in the heavy cream and 2 teaspoons flour and cook, stirring, until the sauce has thickened. Taste and season with additional salt and pepper. 

Pour the finished sauce over the cooked chicken, cover with foil, and bake for 15 minutes to heat through before serving. 
---