Long Island Hot Buttery Lobster Dip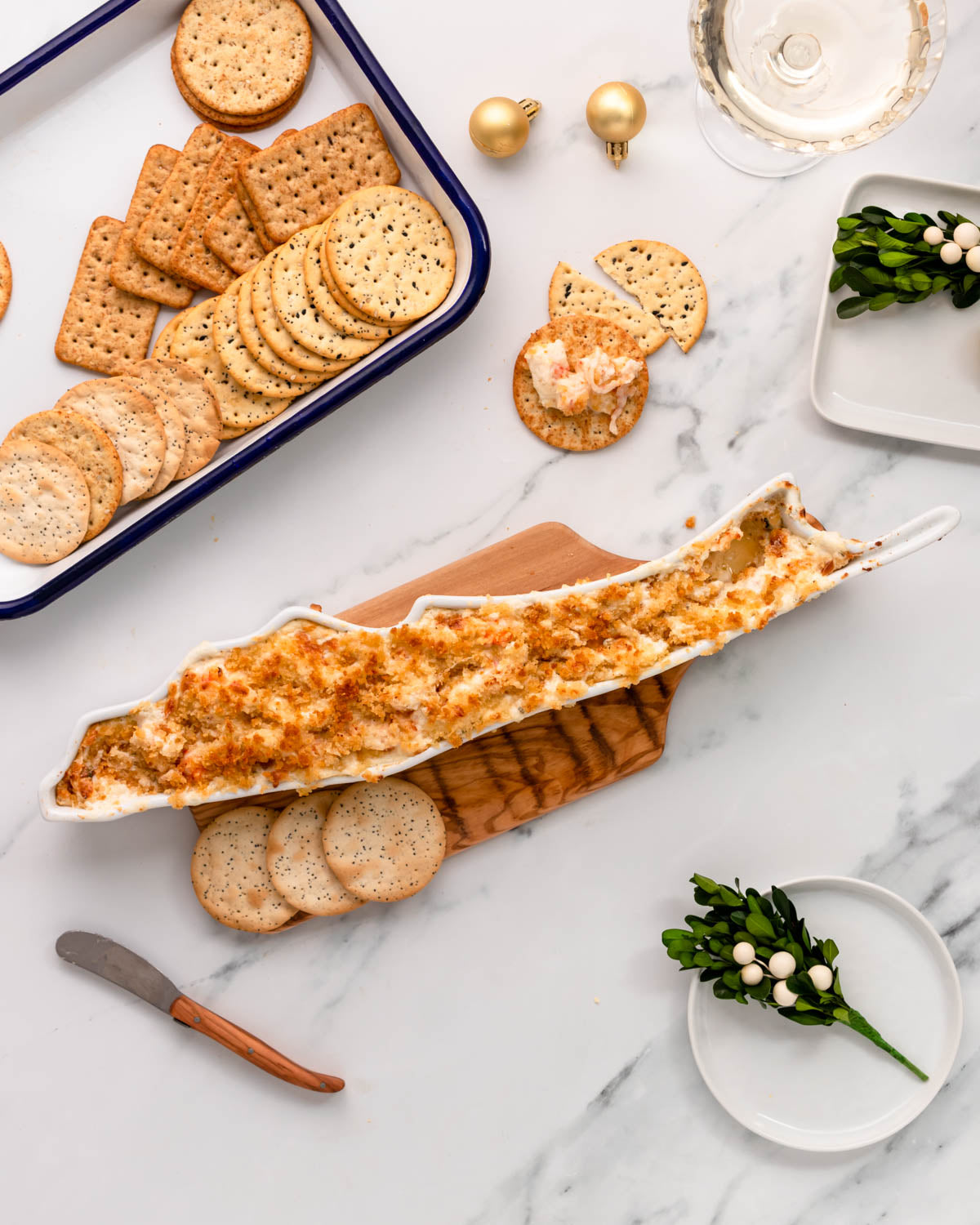 This hot n' buttery baked lobster dip is a guaranteed hit for your next party! It's filled with tender hunks of flash frozen lobster, creamy queso blanco, and topped with a crisp buttery panko breadcrumbs.

Long Island is a hot spot for fresh seafood, so it's only fitting that we pay homage to the rich ocean bounty with a lobster-centric dish. Though instead of going with a traditional lobster roll, we borrowed the bright fresh flavors of the trademark dish and whipped it into a gooey baked dip that's easy to share and addicting at first bite. The dip begins simply, like any other baked dip, with a cream cheese base and a hint of mayonnaise for a smooth finish. Then you get the classic flavors of Old Bay and bright lemon juice as a nod to the classic lobster roll. Sure, it's not a lobster roll by any means, but slather this dip on a crisp crostini or slice of soft French bread those thoughts will melt away.
If you're in an area where fresh or frozen lobster is hard to come by, there's a cheat that is easy to find and even easier on your wallet. Frozen Langostino Lobster isn't technically lobster meat, but it's very similar in texture and color. Langostino is a Spanish word meaning "little lobster" and is often referred to as squat lobster. They are small crustaceans that look and taste like lobster but are closer to crab in most scientific terms. Because the taste is nearly identical to lobster tail meat at a fraction of the cost, feel free to swap in Langostino if needed! Though we always strive for finding that fresh coastal catch. Our island-shaped ceramic dish isn't necessary to bake and enjoy this dip but... it's very on theme!

Hot Buttery Lobster Dip Recipe

Serves 4-6
Prep time: 20 min
Cook time: 20 min
Ingredients
For the dip
8 oz cream cheese, softened

8 oz frozen lobster meat, defrosted and drained

2 Tablespoons mayonnaise

1 cup shredded queso blanco, or other soft mild cheese

1 teaspoon lemon juice

2 teaspoons Old Bay Seasoning

1 teaspoon fresh parsley, finely chopped
For the topping
1 Tablespoon butter, melted

¼ cup Panko breadcrumbs

Assorted crackers or crostini, to serve
Instructions
Preheat the oven to 400

℉

and place your baking dish on a sheet pan for easy handling. 

Defrost the frozen lobster meat according to directions, pat dry with a paper towel, and roughly chop. Set aside.

In a large mixing bowl combine the softened cream cheese, mayonnaise, queso blanco, lemon juice, Old Bay and mix until combined. Fold in the chopped lobster mean and parsley and scoop the mixture into the prepared baking dish. 

In a separate bowl combine the melted butter and Panko and mix to combine. Sprinkle over the dip mixture and bake for 15-20 minutes or until bubbly and golden. Serve with garlicy crostini or whole grain crackers. 
---