Louisiana Baked Jambalaya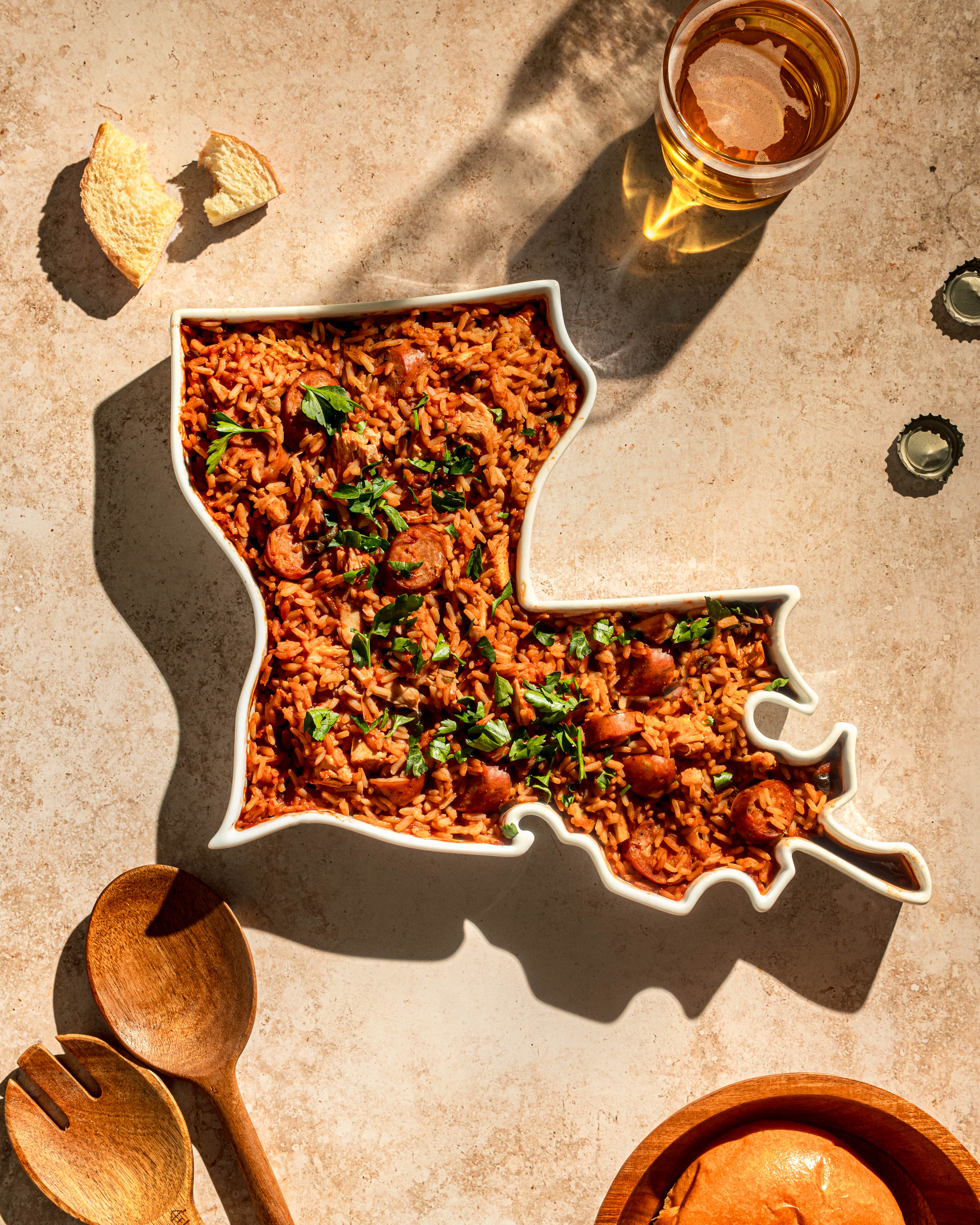 Boxed mixes are great in a pinch, but a baked from scratch jambalaya can be just as simple with a few shortcuts. This flavor packed rice dish features sliced smoked sausage, juicy chicken, and a little heat! Other additions can include cubed ham, shrimp, or bacon. 
Cajun cuisine is all about vibrant, flavorful ingredients that combine West African, French, and Spanish cooking techniques into original and unique recipes. But don't let the rich history of Cajun and creole cuisine intimidate you from making your own versions to enjoy at home! And as a bonus, jambalaya can be a money saving meal by using staples like white rice, dried spices, frozen diced onion and pepper mix, and canned goods for those nights when you find your fridge lacking fresh ingredients. 
The base of a great jambalaya is the combination of onion, celery, and peppers (which is the base to most great recipes) followed by your choice of flavorful meats. The most popular and budget friendly jambalaya protein additions are chicken and smoked sausage, but you can customize your jambalaya with a variety of protein sources like shrimp, crawfish, ham, bacon, oysters, or just about any meat you have on hand. By giving everything a quick cook on the stove and transferring the mixture to the oven, you have a mostly  hands-off dinner that is filling and simple. Not to mention delicious! 
Recipe for Baked Jambalaya 
Ingredients
½ cup canned diced tomatoes with green chilis

1 cup chicken or beef stock, plus up to ½ cup if needed

1 cup shredded cooked chicken, we used a rotisserie chicken 

1 tablespoon cooking oil

2 links cooked kielbasa, sliced into 1-inch-thick rounds

1/4 medium yellow onion, diced

1 medium green bell pepper, diced

2 ribs celery, diced

2 cloves garlic, minced

1 tablespoon tomato paste

1 teaspoon dried thyme

1 teaspoon dried oregano

¼ teaspoon cayenne pepper

1/4 teaspoon garlic powder

1 cup long-grain rice 

Salt and pepper, to taste

2 tablespoons chopped parsley, to garnish

1 tablespoon Louisiana-style hot sauce, to serve
Instructions
Heat oven to 375F and lightly coat your baking dish with cooking spray. 

In a large saucepan over medium heat, add the cooking oil and sauté the chopped onion and garlic until the onion is translucent. About 5 minutes. Add the green pepper, diced celery, tomato paste, cooked chicken and kielbasa and cook for about 3 minutes, stirring constantly. 

To the pan add the chicken stock, diced tomatoes, seasoning, salt and pepper, and rice and turn the heat to medium-high to bring the mixture to a boil. Once boiling reduce heat to a simmer and let cook for five more minutes. If the mixture looks too dry, add up to ½ cup more chicken stock.

Pour the cooked rice mixture into the prepared baking dish and cover with foil; bake for 30-40 minutes or until the rice is tender. Top with chopped parsley and hot sauce to serve. 
---