Maine Wild Blueberry Cobbler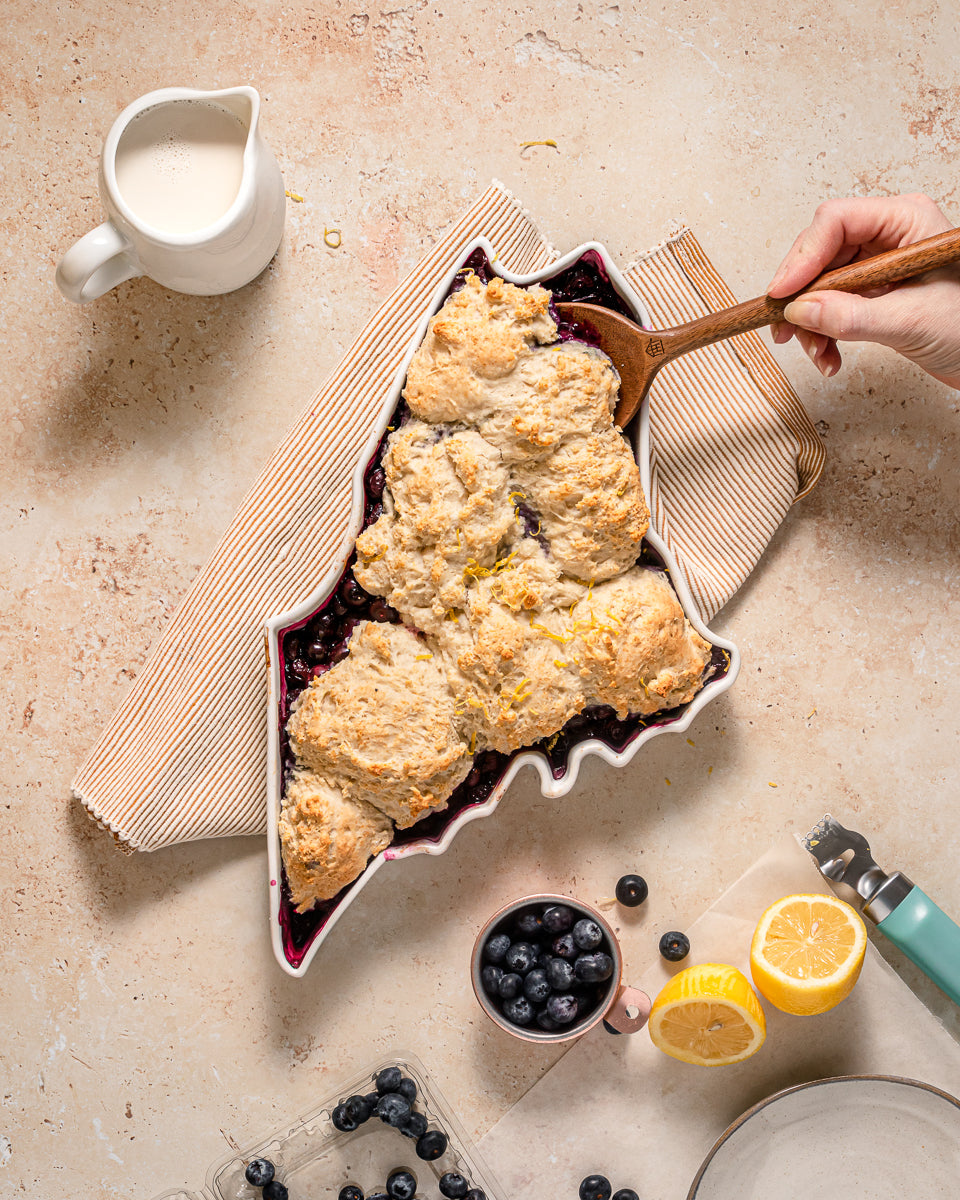 Enjoy the bounty of Maine's iconic wild blueberries in this simple blueberry cobbler! Well, it's actually blueberry season all over the country so pick or pick up some blueberries, wherever you live, and dig in to this summery dessert before they're gone.

Maine is famously known for its wild blueberries which are grown in harsh conditions and harvested at peak ripeness for the most intense flavor. Wild berries are generally very small and may look meek in comparison to other grocery store varieties, but this tiny fruit packs a more intense flavor and complex nutritional profile, which is why the Maine blueberry is such a sought-after ingredient!
For the best blueberry cobbler, we always recommend using Maine blueberries. Fresh berries are wonderful when you can find them at your local grocery store, but frozen wild blueberries are just as delicious and great to have on hand when the cobbler mood strikes! Simply add the fresh or frozen berries to your Maine baking dish along with a little sugar and cinnamon, then top with your favorite biscuit dough (we love scratch buttermilk biscuits here) and bake. 
Top this warm cobbler with a few grates of fresh lemon zest for balance and French vanilla ice cream for the ultimate wild blueberry experience!
Recipe for Maine Wild Blueberry Cobbler
Ingredients
For the Filling
2 heaping cups wild Maine blueberries, fresh or frozen

¼ cup granulated sugar

2 tablespoons Lemon juice

½ teaspoon ground cinnamon

¼ cup water
For the Dough
1 cup all-purpose flour

½ cup buttermilk

1 teaspoon baking powder

1 teaspoon sugar

¼ teaspoon salt

2 tablespoons chilled butter, diced

1 tablespoon lemon zest, to garnish
Instructions
Preheat oven to 350F. Add the blueberries, sugar, lemon juice, cinnamon, and salt to the baking dish and gently stir to combine. Add ¼ cup of water to the dish and bake for 10 minutes then set aside; meanwhile prepare the biscuit dough. 

In a large mixing bowl combine the flour, sugar, baking powder and salt, whisk to combine.  Add the chilled butter and cut into the flour mixture with a fork or pastry cutter. Once the butter is mixed throughout, stir in the buttermilk to form a sticky dough.

Using a large spoon, drop heaps of the biscuit dough over the cooked berries. Cover and return to the oven until the biscuits are golden and no longer doughy; about 15 minutes. Garnish with lemon zest and serve warm with French vanilla ice cream!
---