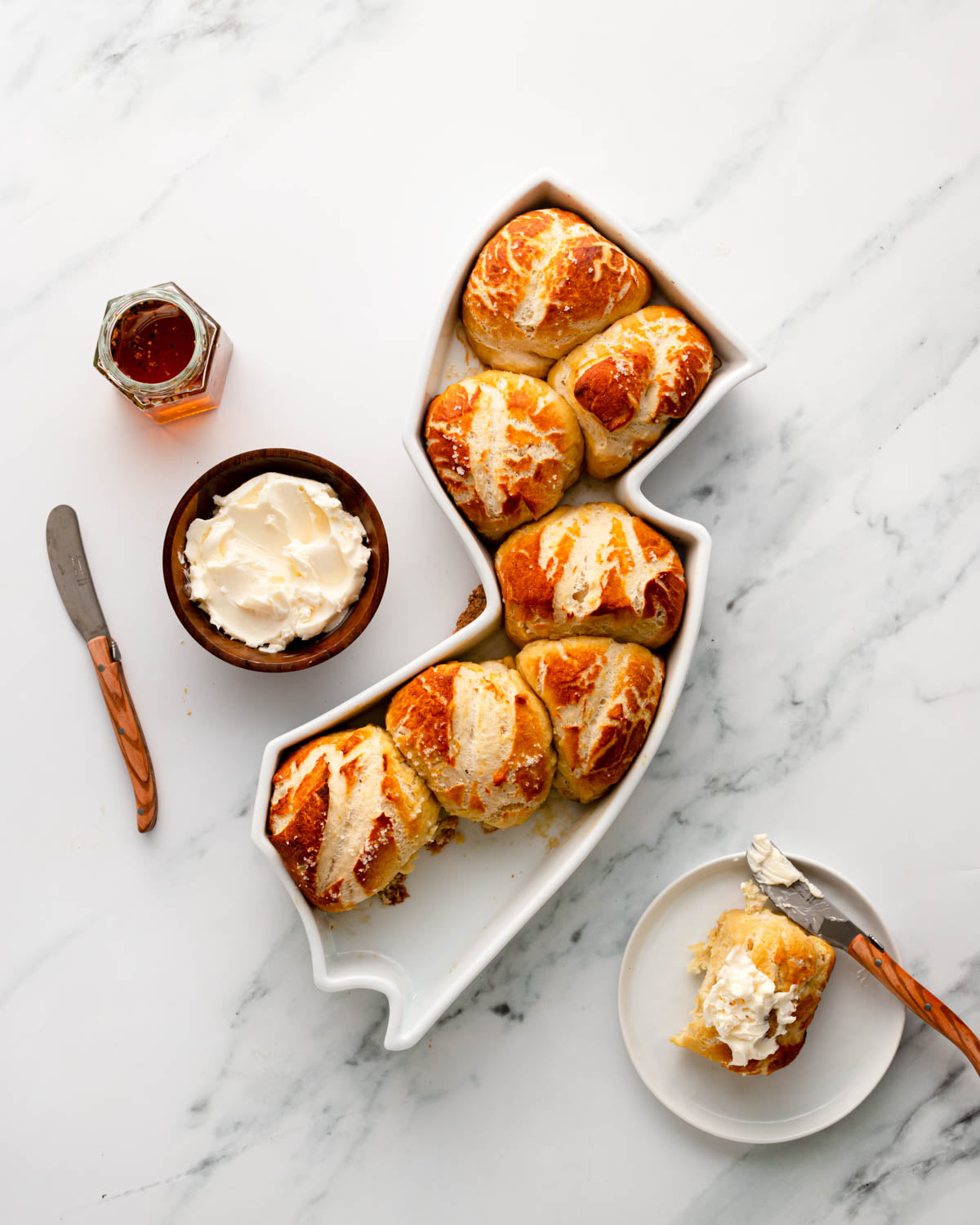 Swap your traditional dinner rolls this fall season with these irresistibly chewy pretzel rolls! Fluffy, chewy, and salty rolls are the perfect accompaniment to all your harvest, Oktoberfest-inspired snacks and meals.
You might think pretzels are the exact opposite of a simple side or appetizer, but trust us on this, they are much easier than you think. Not only are they made with just a handful of simple ingredients, but the texture is a fascinating mix between a classic soft pretzel and a light and fluffy dinner roll. But how you ask? It's all in the baking soda bath!
Pretzels are made using a yeast-risen dough that is first dunked in a boiling baking soda water bath (say that five times fast) then baked to golden perfection. The result is a sturdy dough with a chewy bite and salty finish. For these rolls, we've given them a traditional yeast roll rise time for fluffiness, plus that initial dip in a baking soda bath for that irresistible texture and pretzel flavor we all love! 
Pretzel Rolls Recipe
Makes about 7-9 rolls
Cook time: 20 min
Ingredients
¾ cup warm water, lukewarm but not hot

1 1/8 teaspoon active dry yeast

2 tablespoons unsalted butter, divided

½ teaspoon salt

2 teaspoons granulated sugar

2 cups all-purpose flour

Flaked sea salt, to garnish
Baking Soda Bath
6 cups water

¼ cup baking soda
Instructions
Add the warm water and yeast to the bowl of your stand mixer and let stand for 1 minute. In a separate dish melt 1 tablespoon of the butter and add to the yeast mixture along with the salt and brown sugar, whisk to combine. Turn on the stand mixer fitted with a dough hook and begin adding the flour 1 cup at a time until a soft dough forms, scraping down the sides when needed. Once the dough is no longer sticky and becomes springy, turn out onto a floured surface. If the dough is still very sticky, add a bit more flour.

Kneed the dough for 2-3 minutes until it becomes very soft and elastic.  Place in an oiled bowl and cover to rise in a warm shady area for about 1 hour or until doubled in size. Once doubled punch down the dough to release any air, then transfer to a lightly floured work surface. Slice the dough into about 9 small balls and set aside. 

Preheat oven to 400 degrees F and place your New Jersey baking dish on a cookie sheet and lightly coat the bottom with cooking spray. Bring the 6 cups of water to boil and add the baking soda. In a separate bowl melt the remaining butter.

Working in batches drop 1-2 rolls into the boiling water for about 20 seconds each. Remove with a slotted spoon and place in the prepared dish. Use a sharp knife to score the top of each roll, brush with melted butter, and sprinkle with flaky salt. Bake for 20 minutes or until golden brown. Serve warm.
---