New York Caramel Apple No Bake Cheesecake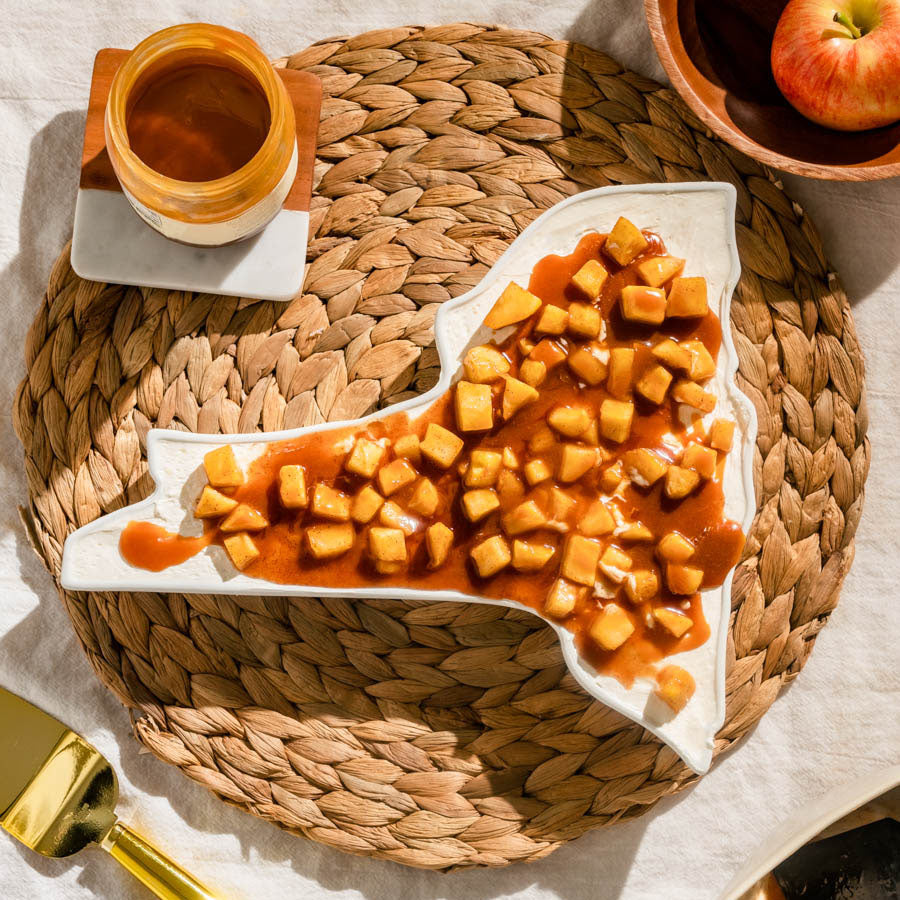 No bake? No problem! This simple yet delicious cheesecake has all of the wintry, holiday flavors you'll love without taking up precious real estate in your oven!
Cheesecake is a guaranteed crowd pleaser and a welcomed deviation from your typical holiday pie, so when your guests have had enough pumpkin for the season this caramel apple cheesecake is the perfect option! The layers include a shortbread crust (the only baking required) a fool-proof cheesecake filling, and a cooked apple topping. Plus, we get a little help from a jar of good quality caramel sauce to finish things up. 
For the best no-bake cheesecake, we recommend your cream cheese to be softened to room temperature. Even the slightest chill can make it difficult to achieve that silky smooth texture. From there, cool whip is an easy shortcut and lends that light and airy mouthfeel that boxed no-bake cheesecake gets from gelatin (which means this is vegetarian friendly!). But a homemade whipped cream is a great alternative and adds that same great mouthfeel!
A note on recipe size—this recipe has been scaled to fit the New York state dish. Preparing it in a different dish may require doubling the recipe!
NY Caramel Apple No Bake Cheesecake
2 cups Vanilla Wafers

4 tbsp Butter, melted

2 tbsp Sugar
8 oz Cream Cheese, softened 

6 oz Cool Whip

1/4 cup Sour Cream

⅓ cup Granulated Sugar
1 large Apple, peeled and diced

1 tbsp Butter

1 tbsp Brown Sugar

1 tsp Cinnamon

½ cup Caramel Sauce
Make the Crust
Preheat the oven to 350F. Place vanilla wafers in a food processor and pulse until only crumbs remain. Transfer crumbs to a medium size bowl and stir in sugar and melted butter. Press the crumbs firmly into the pie plate and up the sides. Bake for 10 minutes or until the edges are just starting to turn golden brown.
No Bake Cheesecake Filling
Beat the cream cheese, sour cream, and sweetener until smooth and creamy. Fold in the cool whip, then portion the mixture into the prepared crust and gently smooth into an even layer. Refrigerate for at least  hours to set.
Apple Pie Topping
Combine diced apples, butter, brown sugar, and cinnamon in a small saucepan. Cook over medium heat until the sugars begin to reduce, and the mixture begins to thicken; about 3-5 minutes. Remove from heat and let cool to room temperature.

Top cheesecake with the apple mixture, then drizzle with caramel sauce to serve.
---