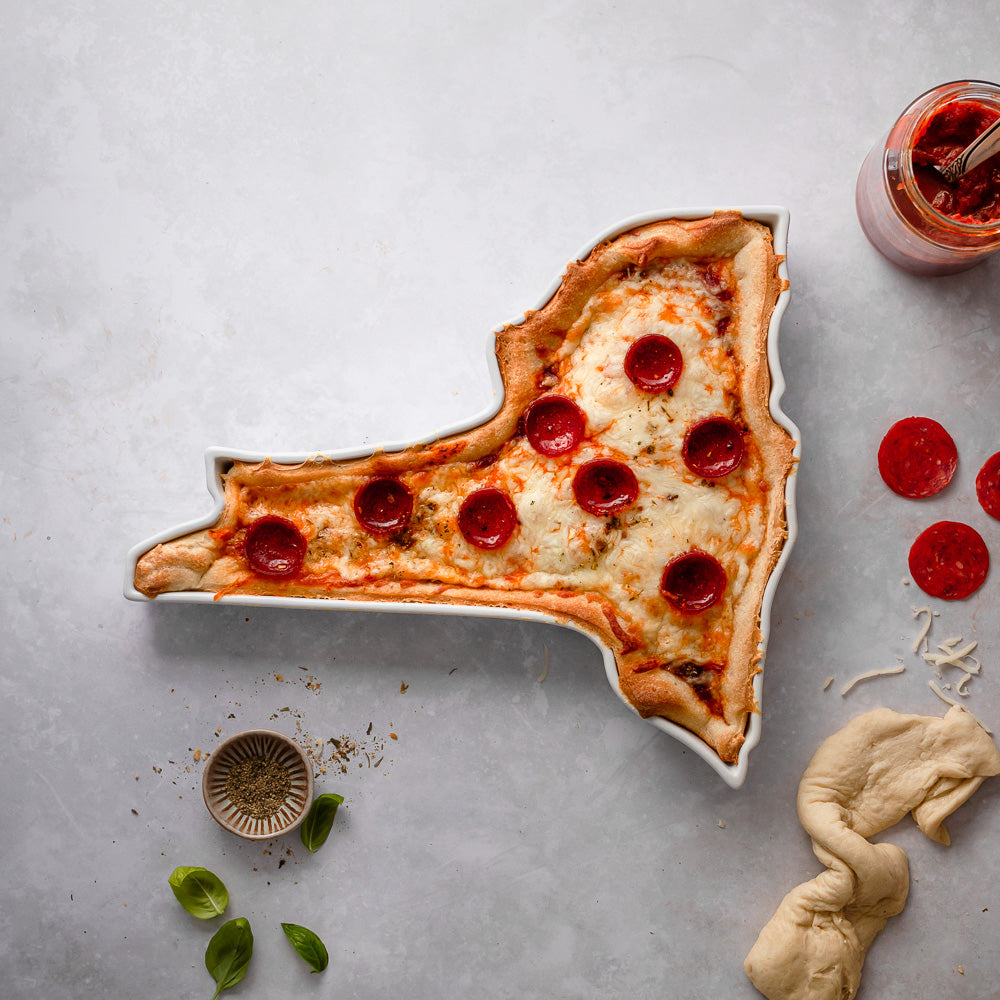 The only thing better than homemade pizza is a super-simple homemade pizza in the shape of your home state!
One of the most fun foods of all time has to be homemade pizza. There's the shaping of the dough, the family debate on what toppings go on which side of the pie, and how much cheese is too much cheese. Spoiler, there's no such thing. 
So, let's talk about the perfect at-home pizza. The most important component is getting the right dough for the job. We love dressing up a classic refrigerated pizza dough because it makes a decent pizza with minimal effort. Or, if you're looking for a dough with a little more flare, call your favorite local pizza joint and ask to buy their raw dough! Most will do it for you without hesitation and your pizza will be expert-level. 
Once you have your base you can breeze through the rest with your favorite sauce, toppings, and of course your State plate!
Recipe for NY Pepperoni Pizza

Ingredients
1 13.8oz tube Refrigerated Pizza Dough, or your favorite dough
5-7 tablespoons Pizza Sauce
2 teaspoons Olive Oil
1 tablespoon Italian Seasoning 
3-5 oz Shredded Mozzarella Cheese 
Mini Pepperoni Slices, to top
Instructions
Heat oven to 425F. Unroll the premade pizza dough and form into your New York dish, allowing some of the dough to reach up the edges. Cut away the extra dough and add to any bare spots that may be left. 

Brush the dough with olive oil and season with Italian seasoning. Prebake for 8 minutes. 

Top the baked crust with pizza sauce, shredded mozzarella, and pepperoni and return to the oven until the cheese is melted; about 6-10 minutes. 
---