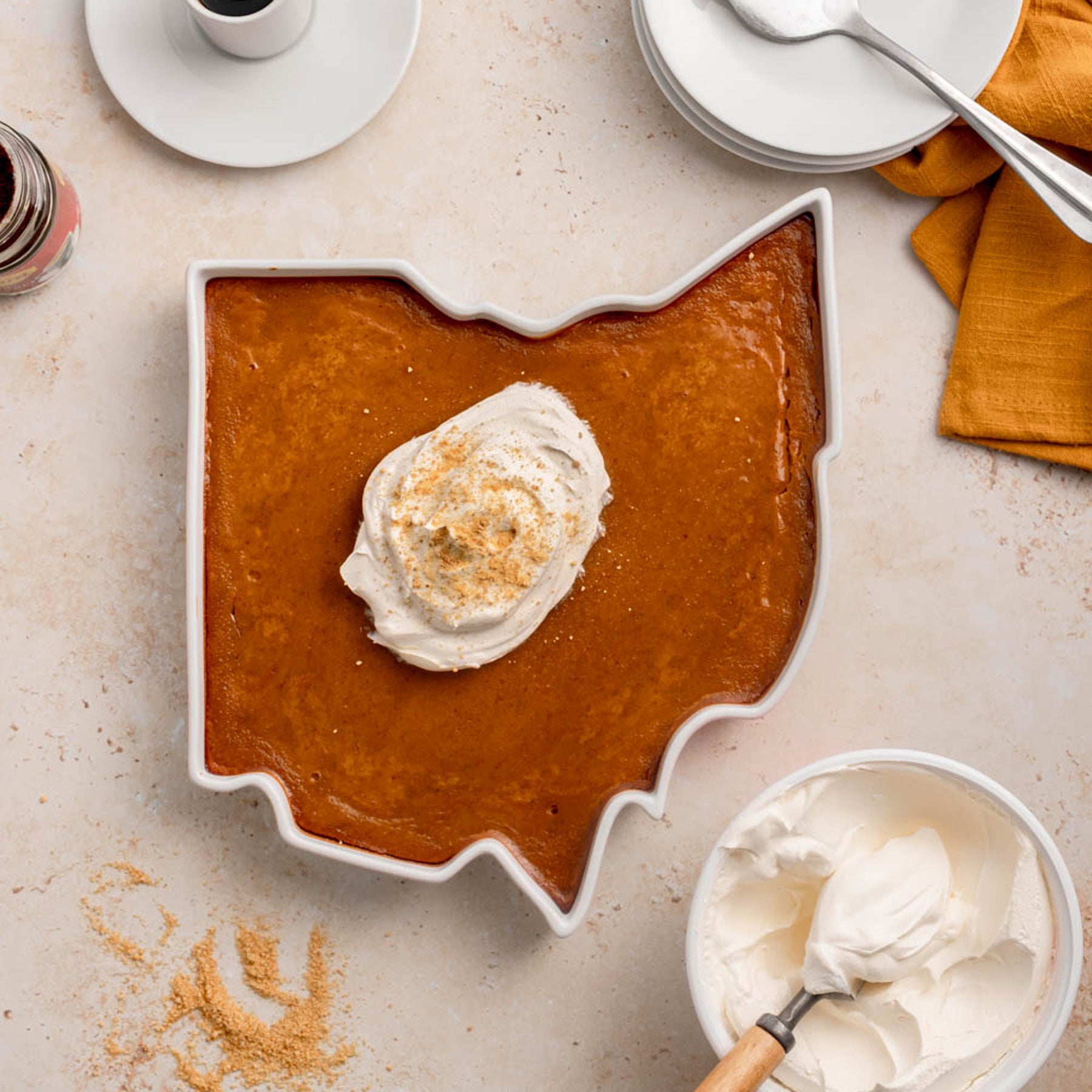 Just when you thought pumpkin pie couldn't get any easier, let us introduce you to pumpkin pie bars! These bars are packed full of the fall flavors you love with zero hassle in rolling out a pie crust!

If you're looking for a pie that can serve a crowd and save you time, these pumpkin pie bars were made for you. The filling is everything you'd expect in a traditional pie filling i.e. pumpkin puree, heavy cream, eggs, and so on. Only we've paired it with a graham cracker crust that whips up in a hurry and gives a soft and sweet base to your pie filling. Just blend the crust ingredients, press into your baking dish, and bake!
Recipe for Ohio Pumpkin Pie Bars
Ingredients
Crust
8 full-sheet Graham Crackers (or 1 heaping cup crumbs)

½ cup Pecan Pieces, chopped

4 tbsp Butter, melted

3 tbsp Granulated Sugar
Filling
2 cups Pumpkin Puree (approx. 1-15oz can)

1/4 cup Light Brown Sugar

1/3 cup Pure Maple Syrup

2 large Eggs

1 cup Heavy Cream

2 tsp Cornstarch

1 tsp Vanilla Extract

2 tsp Pumpkin Pie Spice

1 tsp Ground Cinnamon

¼ tsp Salt
Instructions
Preheat oven to 350F. In a food processor, pulse the graham crackers and pecan pieces to crumbs. Add in the sugar and butter and pulse until combined. Press into the Ohio baking dish and bake for 10 minutes. Set aside while you prepare the pie filling. 

Whisk all the filling ingredients together until smooth, then pour into the prepared crust. Bake for 60-70 minutes or until the center is set. *Cover lightly with foil for the final 20 minutes of bake time if overbrowning. Let cool before slicing to serve and refrigerate any leftovers. 
---