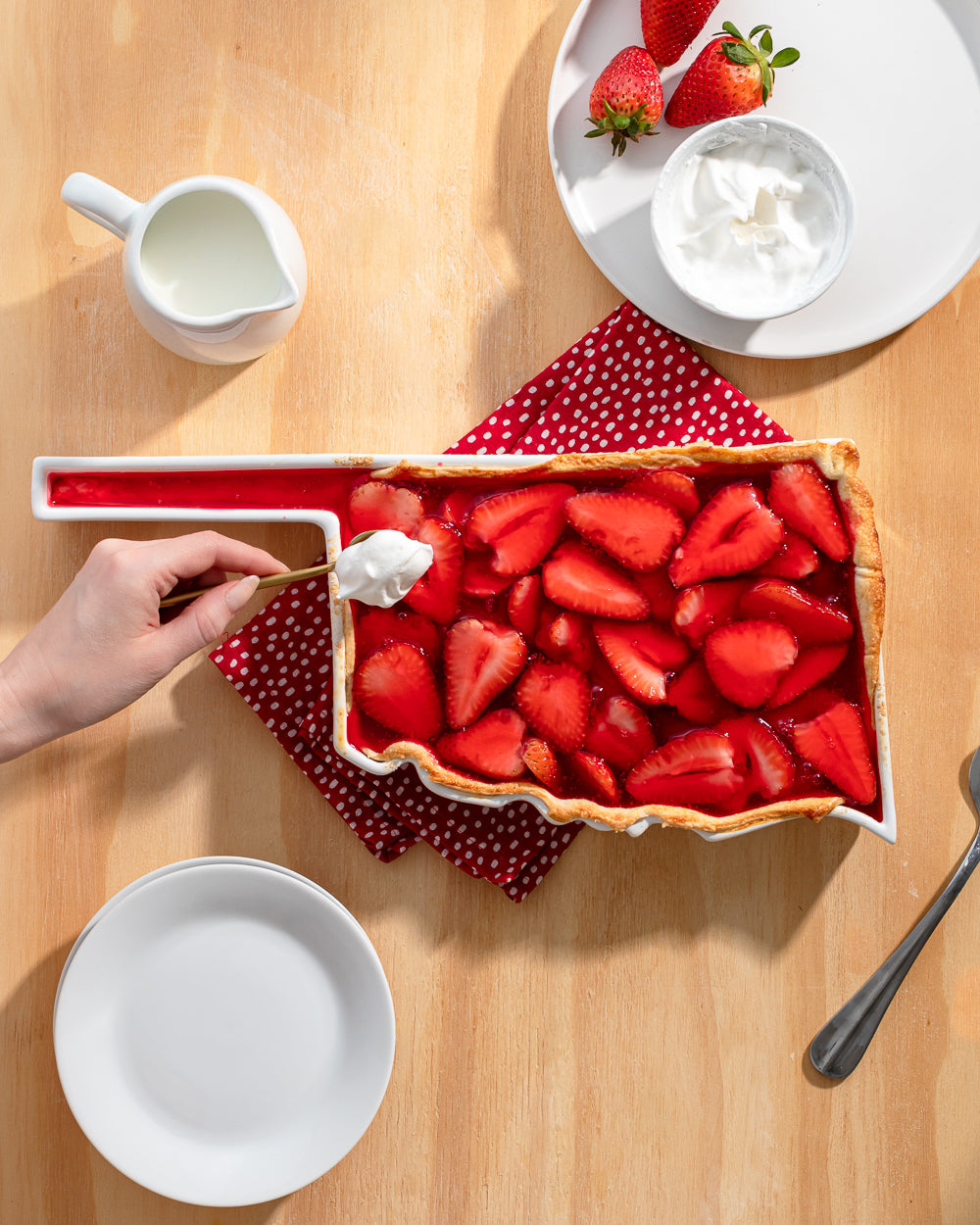 This simple five ingredient fresh strawberry pie is the perfect dessert for your next barbecue! It's ready in a little more than an hour with only 15 minutes of prep time all thanks to an easy refrigerated pie crust. 
Oklahoma is known for its wide variety of culinary influences from Cajun to Native American flavors. Though most known for classic comfort foods like chicken fried steak or the famous fried onion burger, the Oklahoma food scene even taps into some healthier options and new fusion dishes. But what we love most of all is the beautiful bounty of Oklahoma strawberries!
Oklahoma's strawberry season is late spring to early summer. Locals can always find a bounty of fresh berries from roadside stands and farmer's markets in season, which is reason enough to make a beautiful pie, jam, or other truly unique dishes. This fresh strawberry pie takes advantage of ripe berries and a simple mixture of cornstarch, sugar, and gelatin to create a stunning dessert that packs in every ounce of berry flavor. If you're feeling adventurous, use your favorite pie crust (we recommend a classic Crisco crust) or just go with a simple store bought crust. We won't tell! 
Simple Strawberry Pie Recipe

Serves 8
Prep time: 15 min
Cook time: 15 min
Chill time: 1 hr
Ingredients
1 sheet refrigerated pie crust

¾ cup granulated sugar

1 tablespoons cornstarch

1 cup water

1- 3 oz package strawberry gelatin

2 to 3 cups sliced fresh strawberries
Instructions
Preheat the oven to 450

℉

. Lay the circular pie crust in the Oklahoma dish and press in edge to edge. Trim off the excess dough and press into any spaces that were uncovered. Prink the bottom crust with a fork to vent and bake for 8-12 minutes or until golden brown. Set aside to cool.

In a saucepan combine the sugar, corn starch, and water. Bring to a boil over medium high heat for 2 minutes, then remove from the heat. Add the gelatin and stir until completely dissolved. Pour into a bowl or 2 cup measuring cup and refrigerate for 15 minutes. 

Arrange the sliced strawberries in the pre-baked crust and pour the chilled gelatin mixture into the dish. Rearrange any berries that are poking out and refrigerate until set; about 1 hour. Top with fresh whipped cream to serve. 
---