Oregon Baked Mac n Cheese with Crispy Pancetta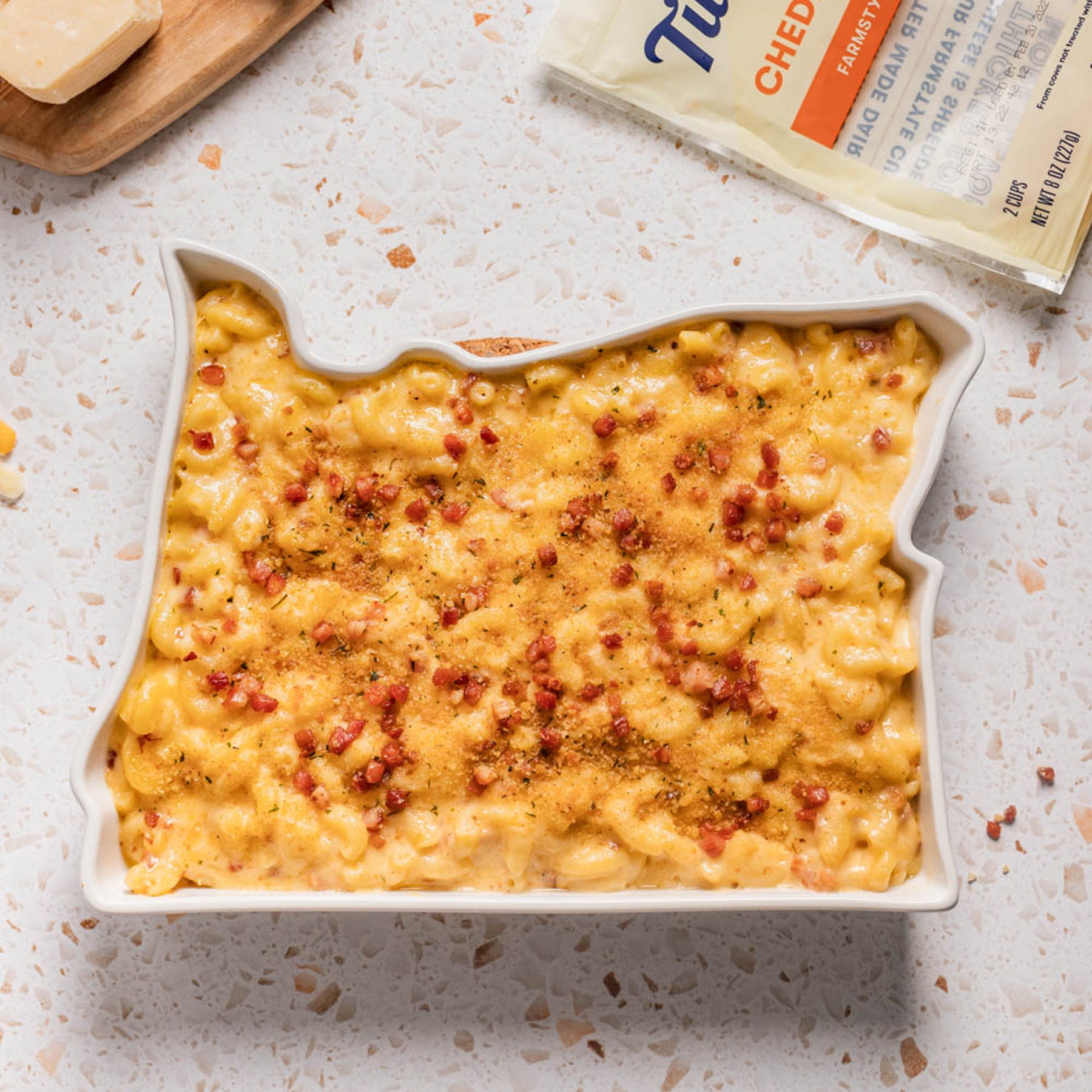 Elevate your holiday sides with a little pancetta and a lot of creamy cheese with this decadent baked mac and cheese!
Mac and cheese might not seem like a holiday side staple, but this dish has come a long way from the blue box version we all grew up with! And though it may seem like a lot of hassle for a simple side, this baked mac and cheese will wow your family without being overly complicated (we promise). 
The key to a great baked macaroni and cheese is all about texture. The noodles should be tender without being overly saturated or mushy. The best way to achieve this is to boil the pasta to the perfect bite-feel, then strain and toss in butter or oil to coat. This prevents the noodles from absorbing extra moisture and keeps them from clumping while you make the cheese sauce. 
Once the noodles are ready, the sauce is a simple roux made of butter and flour. If you've never made a roux, this step may sound intimidating…but don't sweat it. Just melt the butter and flour until you have a thick paste, then let the heat and whole milk do the rest of the work. 
When choosing your cheese, we highly recommend shredding your own for the creamiest texture.  Our favorite is Tillamook's aged sharp cheddar.  Traditional pre-shredded cheese contains added starches that can make your sauce too thick and clump, but if you do, try Tillamook's farmstyle cut.

Baked Mac n Cheese with Crispy Pancetta
Ingredients
8 oz Elbow Macaroni + 1 tablespoon Unsalted Butter

4 tablespoons Unsalted Butter

4 tablespoons All Purpose Flour

3 cups Whole Milk

2 teaspoons Onion Powder

1 teaspoon Garlic Powder

3/4 teaspoon Salt

1 cup Shredded Mozzarella Cheese

2 cups Shredded Cheddar (or a mixture of cheddar, sharp cheddar, Colby jack)
For the topping
4 oz diced Pancetta

3/4 cup Italian Breadcrumbs

2 tbsp Unsalted Butter, melted
Instructions
Topping:

mix the breadcrumbs and melted butter and set aside. Fry the pancetta in a deep skillet over medium high heat, stirring frequently until crisp. Remove to a paper towel lined plate. 

Pasta:

Bring a large pot of water to boil. Add the elbow macaroni and reduce heat to medium. Cook the pasta until al dente; about 8 minutes. Strain the water and add 1 tablespoon of butter to the noodles and toss to coat. Set aside. 

Sauce:

Preheat oven to 350F. In the same skillet (from the pancetta) melt 4 tablespoons of butter over medium heat. Add the flour and stir with a wooden spoon to combine; about 1 minute. 

Pour in the milk and continue to stir over medium heat to thicken; about 6-8 minutes. Season the sauce with onion powder, garlic powder, and salt. Then add the shredded cheese one handful at a time, stirring continuously. Once the cheese has melted, fold in the prepared pasta and half of the crispy pancetta. 

Assemble:

Pour into your state plate and top with the remaining pancetta and Italian breadcrumb mixture. Bake for 15-20 minutes or until the topping is golden. Serve immediately.
---