South Carolina Baked Pimento Cheese Dip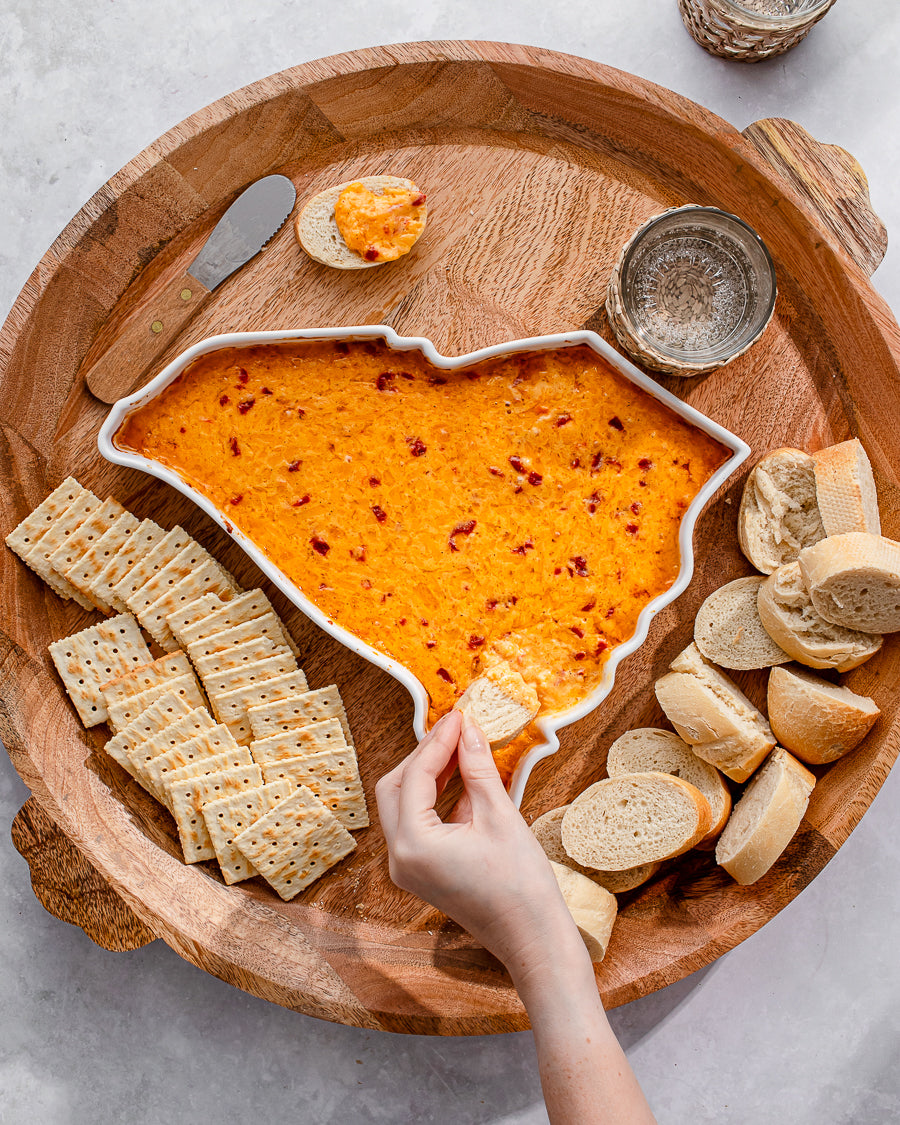 This ooey gooey baked cheese dip is the simple appetizer you'll want to serve over and over again!  
When you're in the south, chances are you'll find more than one restaurant that serves pimento cheese. But it's not just a cheese spread for saltines! Pimento cheese has the versatility to become literally anything you want, including a beautifully messy Pimento Cheeseburger, decadent Smothered Pimento Cheese Fries, or even a simple yet drool-inducing baked pimento cheese dip (our personal fave). So what exactly is pimento cheese? 
Pimento cheese is a mixture of sharp and extra sharp cheddar folded into a mayonnaise base. It's studded with diced pimentos and can sometimes include diced olives, bacon crumbles, or a variety of other cheese blends such as asiago or pepper jack. It's the epitome of creamy and savory goodness that has a smooth texture and spreads like a dream. But when it comes to a baked pimento cheese, the necessary addition of cream cheese helps add a sturdier texture that holds up to heat and can be easily reheated. 
This hot baked dip can be served with your favorite crackers, smeared on celery, with a buttery garlic crostini, or any sturdy chip!
Gooey Baked Pimento Cheese Dip
Ingredients
2 cups shredded sharp cheddar cheese

2 cups shredded extra sharp cheddar cheese

8 oz cream cheese, softened

1/2 small onion, finely grated 

3/4 cup mayonnaise

1-12 oz jar diced pimentos, drained

2 teaspoons Worcestershire sauce 

1/4 teaspoon black pepper

1-3 dashes Louisiana Hot Sauce, optional

1 French Baguette, sliced, to serve
*Recipe Notes: If you choose to shred your cheese from a block, toss the shredded cheese with 1 Tablespoon cornstarch for a better texture. Pre-shredded cheese already has a potato starch added so cornstarch is not necessary. 
Instructions
Preheat oven to 350F and place your South Carolina baking dish on a clean baking sheet. This makes it easier to remove from the oven later. 

In a large bowl combine the cream cheese, mayonnaise, and Worcestershire and mix until smooth. Fold in the remaining ingredients and spread into the prepared baking dish. 

Bake for 10-15 minutes or until the dip is hot and bubbling. Serve immediately with sliced French bread or your favorite crackers and chips.

---