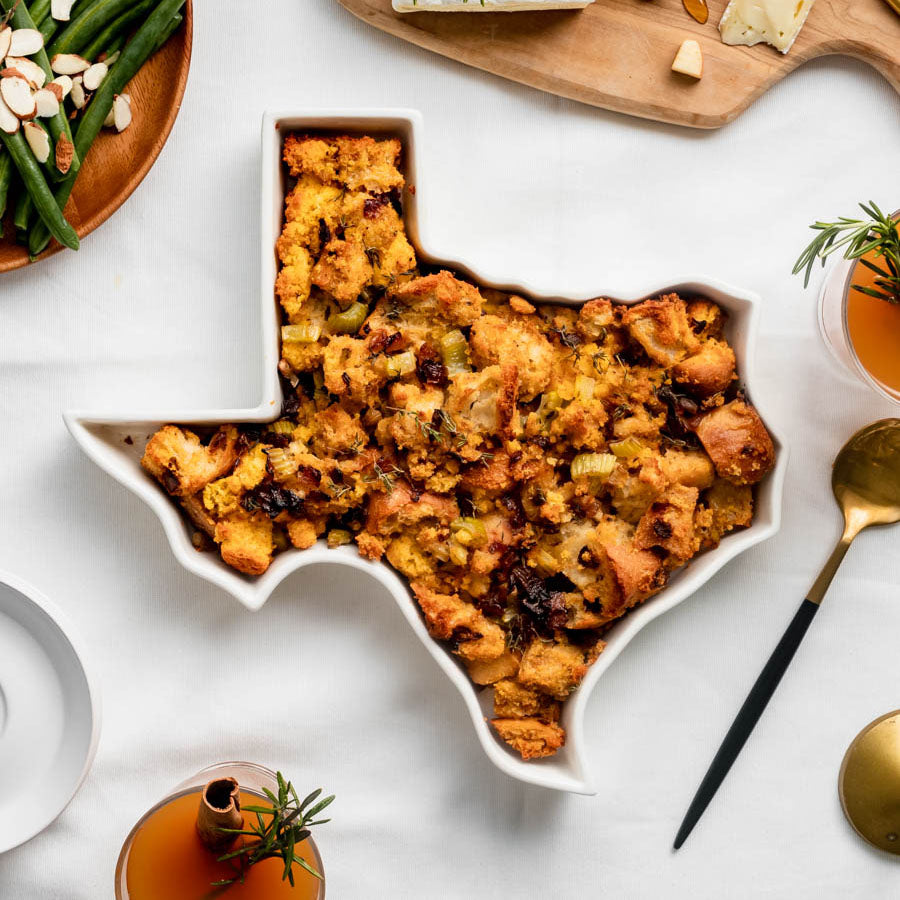 A holiday table wouldn't be complete without the cozy flavors of an herby homemade stuffing. The notes of sage and rosemary pair beautifully with a roasted turkey or holiday ham and this Cornbread stuffing is no exception!
There's nothing more tempting to our taste buds than the perfect marriage of sweet and salty—which is exactly what this cornbread stuffing brings to the (dinner) table. But it's not entirely made of cornbread because…balance. The standard crusty bread and common beginning to any stuffing recipe is halved to make room for a hint of sweet and a slightly unique texture of day-old cornbread. Pair that with fresh herbs and you have a showstopping stuffing to serve alongside your main dish. 
Don't fret about finding an over-the-top cornbread recipe, the blue and white box is just fine. We like to whip up a standard batch of boxed cornbread and let it breath for a day before tossing it in the oven to fully dry out with our crusty bread. And you'll likely have a little extra cornbread left so don't forget to wrap it up tightly and warm it before dinner is served for a dinner roll alternative!
A quick note on baking dish size! This recipe has been scaled to fit most of the larger state baking dishes, though there may be some extra to bake. To scale up and feed more guests, double this recipe and bake any overflow stuffing separately in an oven-safe dish.

Recipe for Texas Cornbread Stuffing

Ingredients
6 tbsp butter

½ lb day old country style bread, torn in pieces

½ lb cornbread, broken into large pieces

1 cups chopped Yellow Onion

4 cloves Garlic, finely chopped

2 medium Celery Ribs, chopped

1 large Egg

1 ½ chicken broth

1/4 cup chopped Parsley

1 tbsp Chopped Sage

1 tsp dried Rosemary

1 tsp Salt

½ tsp Pepper
Instructions
Preheat oven to 300°F and arrange the torn bread and cornbread on a large baking sheet. Bake for 20 and move to a large bowl; set aside.

Heat remaining butter in a medium skillet over medium-high. Cook the onions, garlic, and celery, stirring often until the butter is browned and the celery begins to soften; about 10 minutes. Add to bowl with bread mixture and let cool.
---