USA Simple Apple Crisp Pie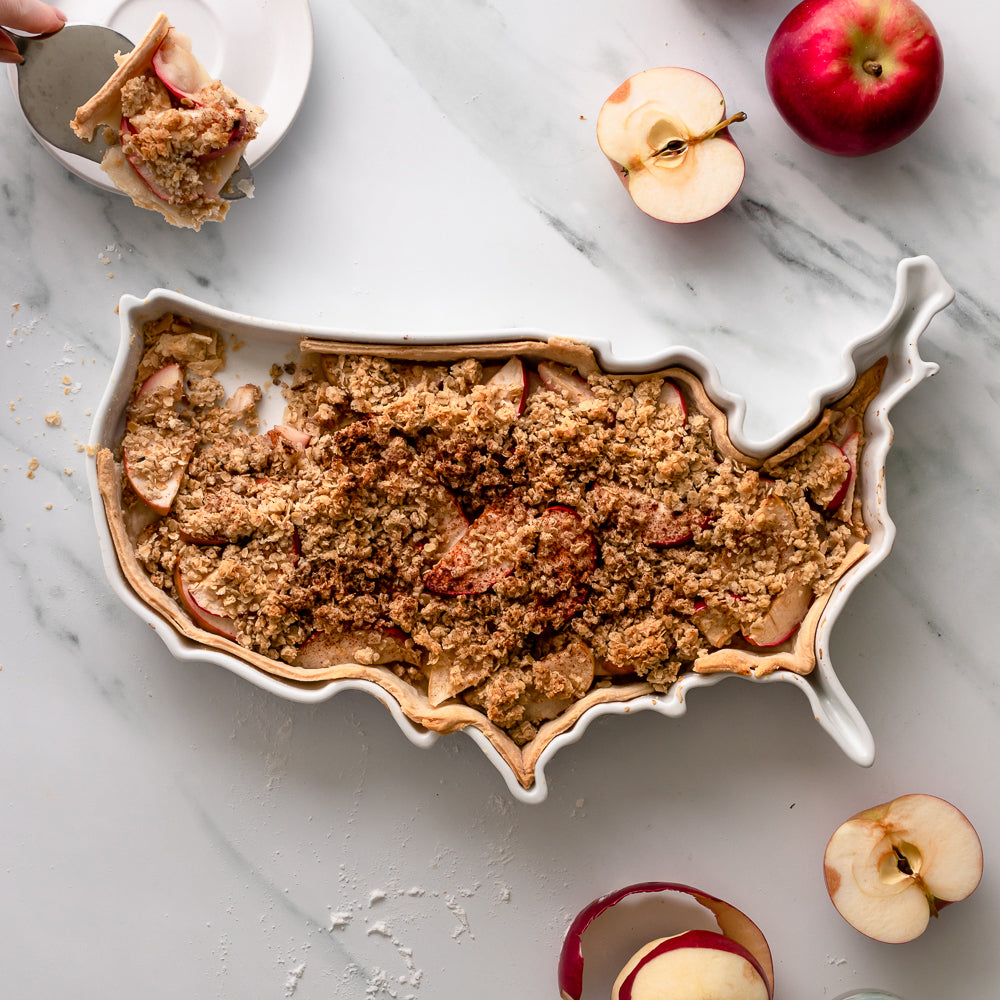 Is it a crumble or a crisp and what's the difference? 
Either way you slice it, a crisp or crumble is a fruit-based dessert with a buttery sweet flour-based topping. Both the crisp and crumble are traditionally crustless, and filling options range from mixed berries to delicate peaches or the sturdy classic tart apple. As for toppings, the crumble is a cakier flour and butter mixture that bakes a little softer while the crisp is known for the addition of oats and it's characteristically "crispier" texture. 
This simple Apple Crisp Pie combines the lovely texture of an oat crisp atop a lightly sweet apple pie filling. And to make dishing this dessert a little easier (not to mention making cleanup a breeze) we've snuggled our apple filling into an easy pre-made pie crust. 
But please, if you feel a deep connection to your homemade pie crust—be our guest! Just make sure to double your pie crust recipe to ensure your dough will fill out all of the nooks and crannies of the USA plate. 

USA Simple Apple Crisp Pie
Ingredients
2 Ready-to-Fill Refrigerated Pie Crusts

5 medium Tart Apples, peeled cored and chopped

½ cup Granulated Sugar

2 tablespoons Flour

1 ½ teaspoons Ground Cinnamon

1 teaspoon Lemon Juice
For the Topping
½ cup Light Brown Sugar

½ cup Flour

¾ cup Oats

½ teaspoon Ground Cinnamon

8 tablespoons Cold Butter, cut into pieces
Instructions
Heat oven to 375F. Arrange your two pre-made pie crusts on your USA plate so most of the dish is covered, then gently press the dough around the edges and in the corners to smooth. Use a sharp knife to trim the excess dough from the edges, adding those pieces to any areas of the plate that are uncovered. Refrigerate while you make the filling. 

For the Topping: Whisk together the brown sugar, flour, oats, cinnamon. Add the cold butter and cut in with a fork or pastry cutter until crumbly. 

Filling: In a large bowl combine the apple pieces, sugar, flour, cinnamon, and lemon juice. Toss to coat, then add to the chilled pie crust and top with the oat crisp topping. Bake for 45-60 minutes
---