Virginia Hearty Chicken Pot Pie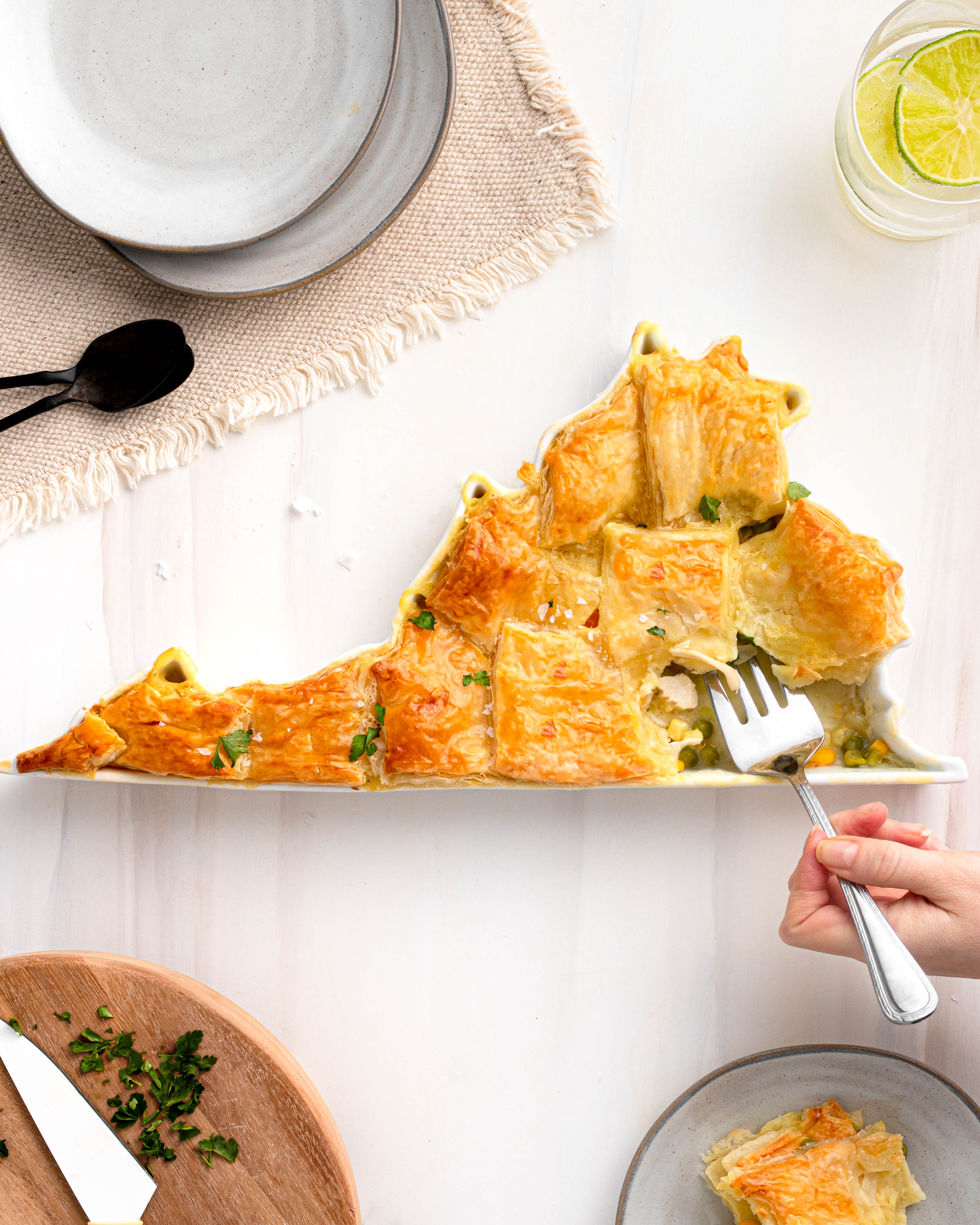 The ultimate weeknight comfort food that is as delicious as it is simple!
Sometimes you need some good old fashioned comfort food at the end (or middle) of a long week and this recipe has all the feels. To keep this recipe true to the chicken pot pie we all know and love, the basic ingredients are all there: mixed frozen corn, peas, carrots, tender chunks of chicken, and a delightfully buttery crust topper. Then we added a few shortcuts like pre-made flaky crescent dough and frozen vegetables to make this perfect for a weeknight dinner.
The filling begins with a basic roux (a combo of fat and flour) to make a creamy base. Then pick your favorite frozen veggies (we love the mix that includes flash frozen asparagus) and pair them with a perfectly cooked rotisserie chicken from your local grocery store deli counter. Feel free to use leftover cooked chicken breast or even cook your own if the mood strikes! But our forever mood is mostly pre-rotisserie'd chicken. 
To add an extra layer of decadence, opt for a beautifully flaky and rich sheet of crescent or puff pastry dough just as a topper. By skipping the bottom layer of traditional pie crust, we leave more room for the hearty filling without missing out on the buttery breaded top!  
Recipe Notes: This recipe has been scaled to fit the Virginia Plate. To fit a larger baking dish, this recipe can be doubled or tripled. 
Recipe for Hearty Chicken Pot Pie
Ingredients
1 Crescent Roll Dough

2 cups cooked diced Rotisserie Chicken Breast

1.5 cups Mixed Frozen Vegetables: corn, peas, carrots and asparagus

2 tablespoons Flour

1/2 cup Whole Milk

4 tablespoons Butter

3 tablespoons Chopped White Onion

½ cup Chicken stock, or up to ¾ cup for a soupier filling

¼ teaspoon Garlic Powder

¼ teaspoon Salt 

Black Pepper, to taste

1 egg, beaten, for egg wash
Instructions
Heat oven to 400F and place your Virginia baking dish on a sheet pan. Set aside.

In a large skillet over medium heat melt the butter and add onion, sauté for about 5 minutes or until tender and translucent. Add the flour and stir with a wooden spoon until a thick paste begins to form; about 1-2 minutes. Next, pour in the milk and stir to combine. Once the milk has been incorporated, add the chicken stock and bring to a simmer, whisking continuously. 

Add the frozen mixed vegetables to the pan and toss to coat. Let the mixture come back to a gentle simmer, once the vegetables are warmed through add in the chicken and stir. If the mixture is too thick, add up to ¼ additional chicken stock. Reduce heat to low while you prepare the dough. 

Unroll the crescent dough and slice into squares. Pour the chicken filling into your Virginia baking dish, then working from the edges first and moving inward, top with the pastry squares until the dish is completely covered. Brush the pastry with the beaten egg and bake for about 45 minutes, lightly covering halfway through with foil to prevent over-browning. 
---